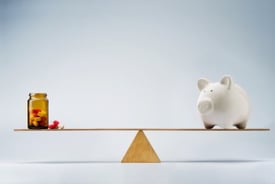 Health Savings Accounts (HSAs) are commonly known as medical spending accounts paired with a high-deductible health plan. But before you use all of your HSA money on prescription glasses and co-pays, here's a thought. HSAs can also help with retirement savings.
Last week, the LA Times featured a story on how to maximize HSAs. In the article, Zane Benefits President Rick Lindquist discusses how and why HSAs are a powerful retirement savings vehicle.
Article Highlights - How to Maximize Your HSA
Here is a summary of how to effectively use an HSA for medical and retirement savings.
HSAs allow you to set aside tax-free money to spend on a wide range of medical expenses, including doctor visits, prescriptions, eyeglasses, hospital and dental care, etc. This year, you can set aside $3,350 for an individual policy and $6,650 for families. To open an HSA you need to be enrolled in a high-deductible health plan (see HSA guidelines for this year here).

HSAs offer favorable tax terms because the money you deposit goes in tax-free, accumulates tax-free and can be withdrawn tax-free as long as the money is spent on qualified healthcare costs.

Unlike flexible spending accounts if you don't use all the money you've deposited in an HSA in a given year, it carries over into the next year.

As Lindquist explains, "I like calling it an IRA on steroids... Every employee should max out their HSA before their 401(k)." Why? Healthcare costs in retirement are expensive. The current average lifetime retirement healthcare costs for a 65-year-old healthy couple covered by Medicare will be $395,000.

To get the most out of your HSA, invest to earn, save your HSA money if you can, and save your receipts for retirement.
Read the LA Times article here.
Learn More About HSAs
Do you have questions about HSAs? Leave a question below. We'll help answer.