The attempt to balance our occupational lives with our family life is a condition that many struggle to achieve. From the 84-hour workweeks during the 1919 steel boom to the 40-hour workweek enacted in the mid 60's, even legislative attempts to intervene on behalf of small business owners and employees to achieve work-life balance have failed.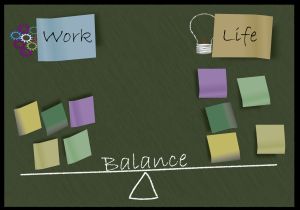 Nonetheless, it was the 1970's workplace when stress became problematic. Since then, the demand for productivity has continued to rise. It's this pursuit for improved performance that has brought ever-increasing stress and one-sidedness to the lives of small business owners and their staff.
Even as we've moved from the industrial age and into the digital age - where it was intended for work to become more sensible - the number of mental stress-related cases rose from 1844 in 1981 to 15, 688 in 1999 in California alone. In essence, the quest for work-life balance hasn't created the self-fulfillment it intended.
The Elusive Search for the Lock Ness Monster, Big Foot, & Unicorns
For most professionals, work-life balance feels unattainable. Arranging sufficient time for work and ample time for life – aptly defined as "work-life balance" - has merely become a means of getting through each day – only to repeat it all again tomorrow.

Copious articles written on work-life balance offer up tools, strategies, and tips to achieve work-life balance. Yet, many Americans state they are overworked. Additionally, 29.2% of Americans are likely to work weekends and 26.6% are apt to work nights. (Source: Hamermesh and Stancanelli, "Long
Weekends and Strange Hours")

Compared to logrolling, a sport in which two competitors stand on a floating log attempting to bump the other off the log by spinning it with their feet, work – life balance is demanding, tough, difficult, painful, and most times, impossible.
Goodbye Work-Life Balance. Hello Time for Life.
Facets of work and life continually morph. Thus, our approach for creating fulfillment and satisfaction in our personal and professional lives, while achieving full-scale productivity and performance, need to evolve as well. Here are four strategies to coach you to greater fulfillment.

1. Reboot. Needless to say, it's very difficult to fully understand what you need – and how it can be achieved – when you're in the midst of overwhelm and chaos. "Running away from home," as I call it, gets you away from the daily grind to de-stress and consider what you want to take time for.

2. Redefine. Rather than filling each day with the demands thrust upon you, a "time-out" encourages you to be more intentional in your life.

Don't let Dr. Phil or Oprah tell you what's best. Define what success is for you. How many hours can you work and still maintain quality, well-being, and gratification in the remaining hours of each day?

3. Rejuvenate. Not to be confused with staring pointlessly at the TV following a long, arduous day, rejuvenation is one of the most neglected areas of our lives. It goes beyond the required hours of sleep each night to include an understanding of what feeds your soul.

It's the simple, yet profound actions that evoke recovery and spark a rebound that improves performance in all areas of your life. And, it's non-negotiable. Just like you're unable to drive your car without refilling the tank, or write checks without replenishing your bank account, you cannot move successfully through life without restoring the essence of your being.

4. Reduce stress. Stress is what occurs when one's expectations are not properly aligned with reality.

Say no. Set boundaries. Put yourself back in the driver's seat of commitments. Don't let other's decide for you or control your time. If the expectation-reality gap is caused by the way in which you work, rethink your approach. Don't rush. Don't multi-task. Don't multi-think. Take frequent breaks. Experiment with different strategies.

Although there are numerous ways to close the expectation-reality gap, it's critical to discover what works best for you. No one can tell you what to do when. You have to realize that for yourself.

Work-life balance, established with the best of intentions, is a well-worn notion that has stood the test of time. And, like the definition of insanity - "doing the same thing over and over and expecting different results" – a new era requests a new approach to creating a happy, fulfilled, satisfied personal and professional life.
What are your secrets for creating work/life balance. Share with us below!