Small organizations continued to face cost increases for group health insurance in 2020, a report from the Kaiser Family Foundation reveals.
Kaiser's "2020 Employer Health Benefits Survey" found that annual group health insurance premiums for organizations with fewer than 200 employees totaled $7,483 for single coverage and $20,436 for family coverage per employee.
Overall, the average premium for family coverage has increased 4% in the last year. Average premiums have increased 22% over the last five years, far outpacing inflation, which increased 10% over the same time frame.
In this post, we'll review the most relevant findings from the KFF study and explore some of the ways that small organizations handle these cost increases—whether by dropping coverage or adopting personalized health benefits like the qualified small employer health reimbursement arrangement (QSEHRA) and individual coverage HRA (ICHRA).
Employers are passing less of their insurance cost increases to their employees
Between 2015 and 2020, premiums increased 22% from $17,545 to $21,342—an increase of $3,797. Employers passed on about 16% of this increase to workers. Yet, covered employees' share of these costs increased from $4,955 to $5,588 during the same period or 12.7%, which is still a lot but does not reflect the full change for the employer.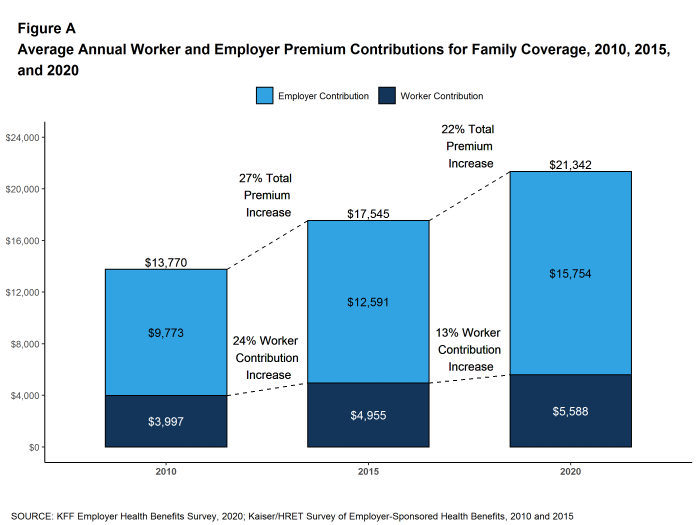 Group health insurance premiums vary by plan type
Premiums vary according to the type of group health insurance policy. For organizations with fewer than 200 employees, high-deductible health plans (HDHPs) were the most affordable, while Preferred Provider Organization (PPO) plans were the most expensive.
The annual premium averages include:
| | | |
| --- | --- | --- |
| | Single Coverage | Family Coverage |
| Health Maintenance Organization (HMO) | $7,022 | $18,878 |
| Preferred Provider Organization (PPO) | $8,216 | $22,044 |
| Point of Service (POS) | $6,800 | $18,860 |
| High-Deductible Health Plan (HDHP) | $6,712 | $19,122 |
Group health insurance premiums vary by U.S. region
The location of the organization also affected costs. Group health insurance premiums in 2020 were most expensive in the Northeast, followed by the Midwest.
The annual premium averages include:
| | | |
| --- | --- | --- |
| | Single Coverage | Family Coverage |
| Northeast | $7,862 | $23,151 |
| Midwest | $7,515 | $21,652 |
| South | $7,296 | $20,593 |
| West | $7,317 | $20.390 |
Different industries have different group health premium averages
Group health insurance premiums in 2020 were most expensive for organizations in the finance industry. Organizations in the transportation, communications, utilities industry came second.
The annual premium averages include:
| | | |
| --- | --- | --- |
| | Single Coverage | Family Coverage |
| Agriculture, mining, construction | $6,504 | $18,892 |
| Manufacturing | $6,948 | $20,383 |
| Transportation, communications, utilities | $7,583 | $22,466 |
| Wholesale | $7,280 | $20,560 |
| Retail | $6,863 | $21,266 |
| Finance | $7,733 | $23,266 |
| Service | $7,564 | $21,099 |
| State or local government | $7,883 | $22,060 |
| Healthcare | $7,883 | $21,342 |
The rate at which employers offer health benefits didn't budge
The survey finds 56% of employers offer health benefits, largely unchanged over the past five years. The larger an employer is, the more likely it is to offer health benefits to at least some of its workers, with about half (53%) of firms with fewer than 50 workers and nearly all (99%) firms with at least 200 or more workers offering coverage.
Small organizations are seeking alternatives
As employers struggle to keep up with rising insurance costs, offering nothing is really an option of last resort that causes anguish for many employers. Employees expect support from their employer for health care expenses, and will often leave an otherwise fulfilling job to get it.
29% of employees say they have left or turned down a job due to the benefits package being offered, while 35% say improving their benefits package is the one thing an employer could do to make them stay—second only to a pay increase. In fact, 57% of employees would accept a pay cut for a more robust benefits package.
Given this, it's easy to see why health reimbursement arrangements (HRAs) are becoming increasingly popular with small organizations. HRAs give organizations much more control over health plan features and designs. With an HRA, organizations can reimburse employees tax-free for healthcare expenses, including insurance premiums.
Organizations offer employees a monthly allowance, and employees purchase the healthcare that best fits their needs. Using HRA administration software, employers can manage an HRA benefit in just minutes per month.
HRA Options include:
QSEHRA. Simple and easy to manage. Employers can offer all full-time W-2 employees an allowance up to a maximum contribution limit.
ICHRA. A new option in January 2020, the ICHRA gives employers the option to offer different benefits (e.g., different allowances) to employees based on job classification, like full-time, part-time, salaried, hourly, temp, seasonal, and employees in different locations. Unlike a QSEHRA, ICHRAs do not have a maximum contribution limit.
GCHRA. Employers can get more control over their group health plan's quality and cost by restructuring their plan and supplementing it with an HRA that is integrated to their High Deductible Health Plan, similar to how an HSA can complement such a plan.
Conclusion
Small employers that want to offer health benefits face ongoing cost increases in the group health insurance market. As the Kaiser study shows, these increases remain persistently burdensome. HRAs are an ideal way for organizations to overcome these cost hurdles while still offering employees a quality health benefit.
Curious to know which HRA works best for your organization? Take our quiz