If you're a small business owner you know that offering employee benefits to your employees is optional, but is it the smartest thing for the success of your company? Do you want to know what really makes an employer attractive to a talented, prospective employee? Offering employee benefits could make all the difference in attracting quality contenders in your work industry and keeping them happy and satisfied.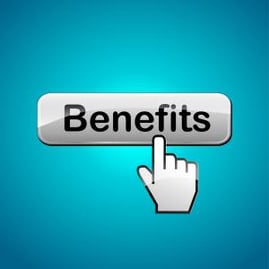 To name a few, employee benefits such as flexibility, stock options, telecommuting, alternative workspaces, and weekly lunches are a wonderful and enticing way to show your employees you're glad you hired them, and you hope they stay. What's more, health benefits in particular create loyalty, peace of mind, and boosts morale. Today's job market is fiercely competitive. Health benefits are an important part of most employees' benefits packages, which explains why nearly 98 percent of large businesses offer them to their workers.
Below are 5 compelling reasons for offering employee benefits to your staff.
Attract and retain the most qualified employees. Do some research. Are your competitors offering health benefits packages to bring top talent into their organizations? Whether they are or not, consider creating a quality benefits plan, including retirement, so you can stay, not only relevant in your industry, but at the very top. Word will spread about the excellent employee benefits one will enjoy by working for your company.

Gain tax advantages. You are able to offer your people something that increases their compensation package and also allows you an income tax deduction for the contribution, so your out-of-pocket cost is less than the value of the benefit to the employee. This is a win-win for both parties.

Ensure the health of your employees. People love to feel like they're cared for. By offering them healthcare benefits, you are showing your staff that you care about their health and well being. Encourage that they use their preventive care and urge employees to stay home if they are ill.

Offer a premium reimbursement. For small businesses, often group health insurance is costly. You may want to consider a premium reimbursement arrangement. This method allows your employees to purchase their own, customized health benefits plan, and you can reimburse them for their premiums, tax-free. This is an attractive option to people because they can tailor their plan for their individual medical needs, as well as decide which physicians and specialists they prefer to visit.

Offer health benefits instead of the stuff that doesn't really matter. Bean bag chairs, free soda, and a dartboard are nice, but are those benefits the kind that attract and retain top notch talent? Quality candidates are looking for a long term situation with a great benefits package.
Conclusion
The more employee benefit you can offer your employees, the better. Attraction, retention, morale, and productivity are great reasons why you should. If you find the right health benefits options for your small business employees, you may just experience happier, healthier, and more invested people representing your company.
Can you think of other ways your small business would benefit from offering health benefits to employees? Let's hear your thoughts!