Small business owners' outlook on the economy has gone up and down over the last year, but a recent survey shows business owners have an increasingly positive view of the economy.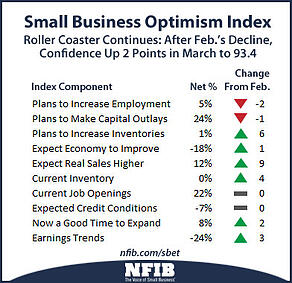 The latest National Federation of Independent Business (NFIB) Small Business Optimism Index shows an increase of 2 points to 93.4, mostly reversing the February decline but failing to reach the height of optimism of the Index during the recovery.
Small Business Owner Optimism Back Up
The March NFIB Index highlights trends in small business owners' economic outlook. According to NFIB:
Labor Markets. Owners increased employment by an average of 0.18 workers per firm in March (seasonally adjusted), an improvement over February's 0.11 reading and the sixth positive month in a row. The remaining 77 percent of owners made no net change in employment. Forty-nine percent of the owners hired or tried to hire in the last three months and 41 percent reported few or no qualified applicants for open positions.

Job Creation. Twenty-two percent of all owners reported job openings they could not fill in the current period (unchanged from February).

Sales. The net percent of all owners (seasonally adjusted) reporting higher nominal sales in the past 3 months compared to the prior 3 months improved 2 points to a net negative 6 percent. Fourteen percent cite weak sales as their top business problem, high but approaching levels experienced in "normal" times. Expected real sales volumes saw a 9 point gain, rising to a net 12 percent of owners.

Earnings and Wages. Earnings trends improved 3 points to a net negative 24 percent (net percent reporting quarter to quarter earnings trending higher or lower). According to NFIB, rising labor costs are keeping pressure on earnings.

Credit Markets. Credit continues to be a non-issue for small employers. In March only 5 percent of owners reported that all their credit needs were not met, 1 point above the record low.

Capital Outlays. The percent of owners planning capital outlays in the next 3 to 6 months fell 1 point to 24 percent.

Inventories. The pace of inventory reduction picked up speed, with a net negative 6 percent of all owners reporting growth in inventories (seasonally adjusted), 4 points lower than February. Reductions are good if in response to strong sales, but not so good if it is in response to weak sales. Owners are satisfying orders with existing inventory but not ordering new stocks.

Inflation. Twelve percent of the NFIB owners reported reducing their average selling prices in the past 3 months (down 3 points), and 23 percent reported price increases (up 4 points).
Click here for the March NFIB Small Business Optimism Index