The future looks bright for small business owners in 2014. After years of pulling the purse strings tightly, small business owners, start-ups, and entrepreneurs are feeling optimistic this year and planning to grow.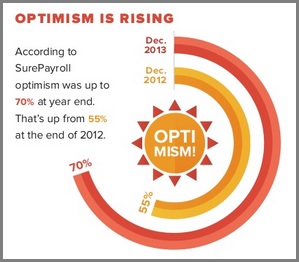 According to a forecast and infographic by Concur, here are a few small business trends from 2013, and where owners plan to invest the most in 2014.
70% of small businesses expect to increase spending, compared with 60% of all businesses (large and small).

70% of owners felt optimistic about the economy at the end of 2013, compared with 55% at the end of 2012.

80% of small business owners expect to increase the number of products and offerings in 2014.

80% of small business owners expect to hire in 2014.
Infographic - Small Business Spending in 2014
Disclaimer: This infographic was created by Concur. The views represented in these infographics do not necessarily reflect the views of Zane Benefits, its staff, or its affiliate partners.

Source: Concur
Like infographics? Check out these small business infographics:
What type of small business articles and trends would you like us to cover? Leave a question or comment below.