Health reform, combined with the increasing cost of health care, is sparking a conversation among employers and industry professionals alike... Should small employers still be in the business of health care?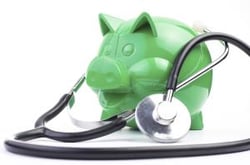 In the Virginia Business, Miles Davis examines that while there is much discussion about the impact of the health reform on small employers, what's not being discussed is whether employers should still be in the business of offering health care.
How Did Employers Get in the Business of Health Care to Start With?
As quoted in the article, Rick Lindquist, president of Zane Benefits, explains why employers offer health insurance.
"During World War II, workers demanded wage increases that were prohibited by wartime wage and price controls. To grant a concession to labor without violating wage and price controls, Congress exempted employer-sponsored health insurance from wage controls and income taxation — in effect allowing off-the-books raises for employees in the form of non-taxable health benefits. This created an enormous tax advantage for employer-sponsored health benefits over health insurance purchased by employees with after-tax dollars (e.g., auto insurance). By the mid-1960s employer-sponsored health benefits were almost universal."
Small Employers Now Struggling with Increasing Cost, Complexity of Health Care
But now, small employers are unable to keep up with the increasing cost of traditional group health plans and with the increasing complexity of health care under the Affordable Care Act (ACA).
According to Davis, the increasing cost, complexity and reporting requirements of providing health care insurance to employees requires that we think beyond the politics to better solutions for small employers.
Is it Time for Business to Get Out of the Business of Health Care?
According to Davis, "We have now become familiar with terms such as "universal coverage" and "one payer" or "single payer" health-care systems. Maybe it is time for us to explore some other alternatives, which do not have as much political baggage attached.
"The national conversation already has begun on health-care insurance and its rising cost to the country. It is now time to begin discussions on why businesses should get out of the health-care business.
"As one company owner said to me in exasperation 'I do not cover [employees'] car insurance, why should I cover the cost of [employees'] health insurance.' "
Miles Davis, Ph.D , is dean of the Harry F. Byrd, Jr. School of Business at Shenandoah University in Winchester.
Source: VirginiaBusiness.com

See related: