Shopping for individual health insurance isn't always the most exciting thing -- and 64% of people say that it is as bad as getting a tooth filled, according to bankrate.com. As such, here are five ways that will help make shopping for individual health insurance easier for you.
What is Individual Health Insurance?
Individual health insurance is a policy you purchase for you and your family through a licensed health insurance agent, who is appointed to represent the insurance carriers, or through the Health Insurance Marketplace in your state. It works just like car insurance.
5 Ways to Make Shopping For Health Insurance Easier
1) Brush Up on Key Health Insurance Terms
Health insurance terms can be tricky, but if you know these four key health insurance terms below, you'll feel better about the choices you make as you begin to explore your health insurance options.
Deductible: The deductible is the amount you must pay for covered services before your health insurance begins to pay. Insurers apply and structure deductibles differently. For example, under one plan, a comprehensive deductible might apply to all services while another plan might have separate deductibles for covered services such as prescription drug coverage.

Copay: A copay is a flat dollar amount you will pay your healthcare provider for a covered service. For example, you may have a $30 copay for each covered visit to a primary care doctor, and $10 for each generic prescription filled. Copays vary from plan to plan and are sometimes different depending on the type of covered service you receive.

Coinsurance: Coinsurance is the percentage of allowed charges for covered services that you're required to pay. For example, your health insurance may cover 70% of the charges for a covered hospitalization, leaving you responsible for 30%. This 30% is known as the coinsurance. If the plan has a deductible, you usually pay the coinsurance for covered services after your deductible is met.

Out-of-pocket limit / Out-of-pocket maximum: An out-of-pocket maximum is the maximum amount of money you will pay for covered services during a benefit period (for example, over the course of a year). The out-of-pocket maximum never includes your premium, balance-billed charges, or services your health insurance plan doesn't cover. The out-of-pocket maximum will vary from plan to plan but can include copayments, deductibles, and co-insurance. Once you have paid the full amount toward your out-of-pocket maximum, your insurance will pay 100% of the allowed amount for your covered healthcare expenses.
2) Understand the Tiers of Coverage
Now that you have a basic knowledge of key health insurance terms, it's helpful to understand that there are four metallic tiers of coverage that include Bronze, Silver, Gold, and Platinum. The metallic tiers are intended to help you compare plans "apples to apples." As you can see below, as the metal category increases in value, so does the percent of medical expenses that a health plan will cover.
Knowing and understanding the various tiers of coverage will allow you to know what is most appropriate for your lifestyle and situation, and what is affordable based on your budget.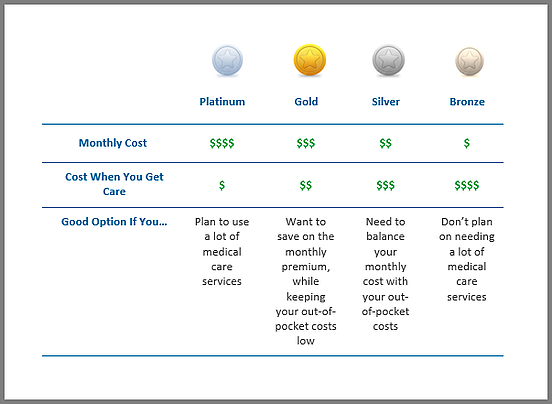 3) Use Premium Tax Credits
What are premium tax credits? Premium tax credits help lower the cost of health insurance for those who are eligible. The discounts are available for coverage purchased through your state's Health Insurance Marketplaces (see this Marketplace directory). The premium tax credits are also called health insurance tax subsidies.
4) Know Where to Go
Now that you have a pretty good understanding of what you are looking for, it's important to know where to go for individual health insurance. Rather than feel overwhelmed with the many places you can go, know that it's really quite simple. You can go to your state's Health Insurance Marketplace, purchase through a broker, or purchase directly from an insurance carrier.
Using your state's Health Insurance Marketplace allows you to compare health plan benefits, networks, costs, and coverage from competing providers and can be done on your own time. However, some individuals choose to go through a broker because they understand the Marketplace and can help you see what options may be best for you. Lastly, you can contact a health insurance carrier directly. This cuts out the middle man, but you will not be able to easily compare with other carriers this way.
5) Ask for Help
Lastly, don't be afraid to ask someone for help. Whether it's your first time purchasing individual health insurance, or you are wanting to switch to a new plan, ask for help. You may know someone that feels experienced in individual health insurance that can help you, but If not, you can always contact HealthCare.gov or a broker for specific questions you may have.
What suggestions do you have to make shopping for health insurance easier? Join our discussion and comment below.
Survey:
bankrate.com