As the Affordable Care Act (ACA) begins its second enrollment season, the Congressional Budget Office has projected that over twice as many Americans will enroll in coverage as did last year. In 2013, the CBO estimated that 6 million Americans would purchase individual policies, with over 8 million enrolling. This year, the CBO has adjusted those numbers upward, predicting that 13 million Americans will enroll.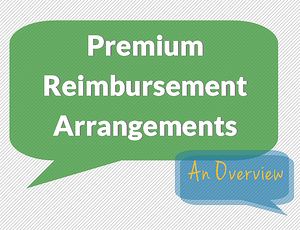 Individual Health Insurance Premiums
With individual insurance becoming more mainstream, questions surrounding how to manage new insurance costs are also arising. For many enrolled Americans, payments on health insurance premiums are a new expense. Depending on the plan purchased, premiums can create thousands of dollars of added annual financial burden.
The ACA was designed, however, with premium reimbursement options in mind. Two key solutions exist to lower the price exposure of health insurance premiums for individual policies.
Premium Reimbursement Option 1—Premium Tax Credits
Federal premium tax credits are subsidies available to those who buy individual health coverage in a health insurance exchange ("marketplace"). These tax credits reduce the cost of coverage (see this premium tax credit chart). In 2014, 87% of people who purchased a health plan through the Marketplace received a discount, paying only $82/month on average.
Eligibility for premium tax credits is based on family size and income. The subsidies cap the cost of health insurance at 2% - 9.5% of household income, if household income is no more than 400% above the federal poverty line (FPL).
Additionally, the premium tax credit can be applied at the time of purchase, reducing real-time payments, or reimbursed after filing taxes. More information surrounding the rules and eligibility requirements of premium tax credits can be found here.
Premium Reimbursement Option 2 - Healthcare Reimbursement Plans
Healthcare Reimbursement Plans (HRPs) give employers a tax-free solution for reimbursing their employees' premium costs. For self-employed individuals, or small business owners who are sending their employees to the healthcare exchange, this makes particular sense.
Group health insurance is not an option for all employers, but that does not mean that providing health benefits is off the table. Using a Section 105 Healthcare Reimbursement Plan, employers can allocate funds to reimburse premiums.
HRPs have the added advantage that they are compliant with premium tax credits, meaning that employees can receive subsidies on their premiums and be reimbursed for the remaining amount. Like employer contributions to group health plans, here, the business is not obligated to cover any set amount of the premium. Employers can determine the maximum they want the HRP to reimburse, and employees can enroll in a policy which meets their budget needs.
For those who are paying monthly premiums for individual health insurance, or who are considering enrolling in a plan, make sure to evaluate these premium reimbursement options. Many Americans are concerned that the switch from group to individual health insurance will result in increased out-of-pocket expenses; however, these premium reimbursement options mean that real incurred costs may be largely mitigated for the policy holder.
What questions do you have on premium reimbursement options? Leave a comment below.