Nearly five years ago, the nation first learned about ObamaCare and how it would impact the way we think of health insurance. And ObamaCare Marketplace health plans are now in their second year of implementation. As such, nowadays, the term "ObamaCare" is a pretty widely-used term and heard often.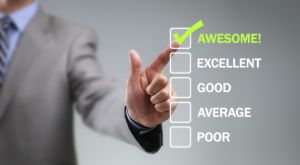 But, what you don't always hear about is whether people, as a whole, are satisfied with ObamaCare Marketplace health plans. Sure, you've heard various individuals state their opinion, but does America love or hate their individual health insurance plans in comparison to employer-based health insurance? The answer may not be what you think.
In fact, according to a recent study by J.D. Power, people who bought coverage through the ObamaCare Marketplaces are generally more satisfied than those with other types of insurance. In this article, we'll highlight the survey's results and what they mean about ObamaCare satisfaction.
Key Findings
ObamaCare plans are rated at 696 out of 1,000 for customer satisfaction vs. 679 for employer-based plans.

Satisfaction with ObamaCare plans is highest in Pennsylvania (752), Illinois (746), and Georgia (745).

Across Marketplace plan types, consumers are most satisfied with the provider selection and claims processing attributes.
Customers Rate Obamacare Marketplace Plans Higher Than Employer-Sponsored Plans
The latest study by J.D. Power found that customers with an ObamaCare Marketplace plan rated their satisfaction over last year's as 696 out of 1,000. Customers who had employer-based plans gave it a 679, or 17 points lower than ObamaCare. People who were new to ObamaCare rated their experience at 670, which was 55 points higher (615) than the previous year when the Individual Health Insurance Marketplace was troubled by website problems.
The study found that people were more likely to be satisfied by their ObamaCare Marketplace plans if they had already enrolled in the coverage and gave an even higher remark if they had auto-enrolled in their plans for the year -- these ratings were 744 out of 1,000.
What Do the Numbers Mean?
These ratings are the first real look at the results of the improvements that the Department of Health and Human Services (HHS) has made to customer experience. After the initial launch of the Individual Health Insurance Marketplace, many wondered what improvements would be put in place to make the experience better. Now, this year, the HHS can see that their efforts were not in vain.
So, what do the numbers mean? The survey suggests that generally people are satisfied with their ObamaCare Marketplace plans. Furthermore, because Marketplace health plans are ranked higher than employer-based plans, the numbers would suggest that ObamaCare is a feasible alternative to employer-based plans. This comes as good news for many small business owners who are on the fence regarding whether or not to direct their employees to the Individual Health Insurance Marketplace to purchase individual plans.
Although the numbers do not yet represent a large enough sample size over a long period of time, so far they're a good indication that people are generally pleased with ObamaCare.
Conclusion
As the ObamaCare Marketplaces continue in year two surveys are beginning to surface regarding overall satisfaction of Marketplace health plans. Are consumers satisfied with their Marketplace plans? Early results say yes. Are consumers more satisfied with their Marketplace plans than employer-based plans? Surprisingly, early results also say yes - by some 17 points. This comes as relief to small business owners who are unable to provide health insurance and choose to direct their employees to the Individual Health Insurance Marketplace.
Don't Miss Our Other ACA Series Articles
Is Obamacare at Its End? [ACA Series]
Was Obamacare Meant to Last Long-Term? [ACA Series]
After 5 Years of Obamacare - What's the Verdict? [ACA Series]
Is Price Stability Needed For The ACA To Succeed? [ACA Series]
What do you think about the latest survey on ObamaCare? Tell us below.
Survey source: J.D. Power