Business owners strive to offer health benefits that stretch the company's dollar the farthest while also providing employees access to quality health insurance. These two priorities can seem at odds.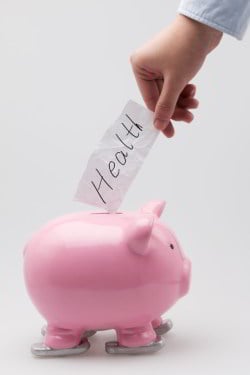 The best way to get the most value out of your health benefits dollars, and provide employees access to quality health insurance, is with a "pure" defined contribution approach.
Here are four reasons why.
1. On Average, Individual Health Insurance Costs Less
With "pure" defined contribution health benefits, what the business offers as a benefit is an allowance to spend on health insurance. The business defines their contribution instead of defining the exact health insurance benefit. With "pure" defined contribution, there is no group health insurance plan in place. Instead, employees purchase individual health insurance and use their defined contribution allowance to be reimbursed for their premium (or a portion of their premium).
Defined contribution creates value for the company and employees because on average, individual health insurance costs less than group health insurance (see this PDF guide for analysis of the numbers). Simply put, a contribution of $200/month per employee goes farther with "pure" defined contribution health benefits than it does toward group health insurance premiums.
2. Eligible Employees Can Access Health Insurance Tax Credits
If employees meet certain income requirements, and do not have access to an affordable employer-sponsored or government health insurance plan, then they are eligible for the health insurance tax credits through the individual Health Insurance Marketplace. (Note: Offering defined contribution health benefits does not disqualify employees from the health insurance tax credits because the defined contribution health benefit is not considered a qualified health plan under the health reform law.)
Defined contribution paired with the health insurance tax credits creates additional value and makes the company's health benefits dollars go even farther.
See this example illustrating the potential cost savings.
3. The Company Defines Their Budget (Any Amount...)
With defined contribution, the business defines their health benefits budget by setting any contribution amount to employees' health care. There is no minimum employer contribution amount and no annual renewal increases or fees. The company "names its price".
This aspect of defined contribution offers many smaller employers the ability to offer health benefits. For example, smaller businesses who cannot afford group health insurance are able to offer health benefits for the first time. And, businesses facing unaffordable renewal increases with their group health insurance plan can switch to a more predictable and affordable health benefits model.
4. Different Employees, Different Benefits
The fourth way defined contribution gets you more value from your health benefits dollars is that the business can strategically allocate contributions by type of employees.
The business decides which employees to offer the health benefits to by using employee classes. This allows the business to focus resources on employees who are vital to the business.
For example, consider an electrical contracting company who struggled to hire and keep journeymen electricians in a very tight labor market. Instead of offering the same health plan to all employees, the company created separate classes for apprentices and journeymen and gave journeyman $350 more per month in their defined contribution allowance. This large increase helps the company reduce attrition among journeyman. Plus, it creates a visible incentive for apprentices to complete the education required to become journeymen.
See this article on using defined contribution to recruit and retain the best employees.
Getting More Value From Your Health Benefits Dollars
In the past, group health insurance was the primary way for businesses to provide quality health insurance to employees. Today, group health insurance is a source of frustration with declining benefits and increasing costs. Small and medium sized companies are looking for ways to offer health benefits, while making their health benefits dollars stretch farther. "Pure" defined contribution provides a solution to getting the most value from your health benefits dollars.
Thoughts? Questions? Leave a comment below.