For many health insurance brokers and agents, Marketplace "navigators" and "assisters" may as well be four letter words. And, rightfully so. The newly created navigators and assisters were given a clear role in the Marketplaces, while experienced brokers and agents had to wind a challenging maze just to register, become certified, and receive commissions with the Marketplaces. The Marketplaces did not make it easy for brokers.
And yet, since 2014, many brokers are finding success with non-group policy sales both inside and outside of the Marketplaces. So, what can we learn from the success and challenges of assisters and brokers in the Marketplace?
As we gear up for the next open enrollment period, a recent survey from Kaiser Family Foundation (KFF) provides insight.
Marketplace Assister Trends
The survey provides a snapshot of the role assisters provide and of the market opportunity. There are a number of different assister programs that provide Marketplace outreach and enrollment services. The assister programs include Navigators and Certified Application Counselors (CACs), among other programs.
According to the survey findings:
In 2015, more than 4,600 assister programs served Marketplace consumers, collectively employing 30,400 full time equivalent staff and volunteers.

Assister programs helped an estimated 5.9 million consumers this year.

The need for in-person consumer assistance remains substantial. According to the survey, 79 percent of assister programs this year said most or nearly all consumers sought help because they lacked confidence to apply on their own; 82 percent of programs this year said most or nearly all consumers needed help understanding their plan choices; 74 percent of assister programs (this year and last year) said most or nearly all consumers needed help understanding basic insurance terms, such as "deductible."

The need for consumer assistance is year-round. In between open enrollment periods, returning assister programs helped an estimated 630,000 consumers apply for coverage through special enrollment periods, 290,000 consumers report mid-year changes to the Marketplace, and nearly 800,000 consumers resolve post-enrollment problems.

A need for better information on health plan choices. Thirty-one percent of programs this year said it was often or almost always the case that consumers had QHP questions that weren't answered by information on the Marketplace website.

To provide better help to consumers, assisters say they would like additional training on tax-related issues (43 percent), immigration-related issues (39 percent), Medicare-related issues (39 percent), and appeals (31 percent).
Health Insurance Broker Trends
Although the role of the broker has been less defined than the assisters, brokers continue to play an important role in Marketplace plan enrollment, assistance, and plan education. In fact, brokers often provide a level of in depth expertise and knowledge that assister programs may lack.
According to the survey findings:
The vast majority of brokers who sold non-group coverage this year had done so during the first open enrollment period and prior to 2014, as well.

Most brokers (79%) sold non-group coverage both inside and outside of the Marketplace, though on average, brokers helped almost twice as many consumers apply for coverage through the Marketplace compared to outside.

Non-group sales have increased for most brokers since Marketplaces opened in 2014. Sixty percent of brokers say they are selling more non-group coverage today than they did prior to 2014.

Most brokers reported it takes more time to sell a non-group policy and the revenue they earn per-policy is less; but 40 percent earn more income overall from non-group commissions than they did prior to implementation of the Marketplaces and another 20 percent said their overall non-group commission income is about the same.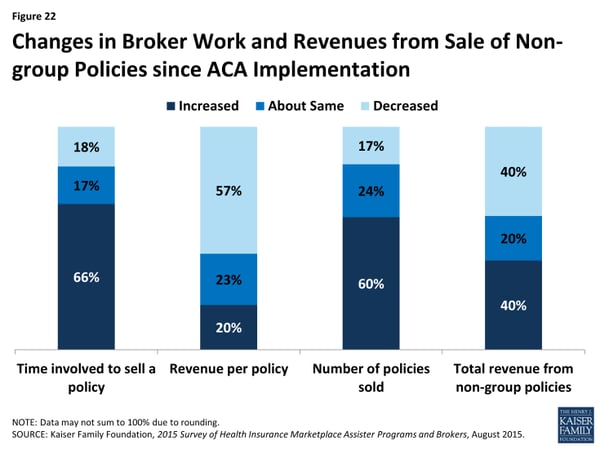 Conclusion
KFF's recent survey on brokers and assisters in the Health Insurance Marketplaces reflects both the need for health insurance professionals to assist consumers, and the opportunity for brokers to increase non-group policy sales.
As a health insurance professional, what trends or opportunities are you seeing in the Marketplace for the 2016 open enrollment period? Join the conversation with a comment below.