Recent health reform has left many businesses wondering if their health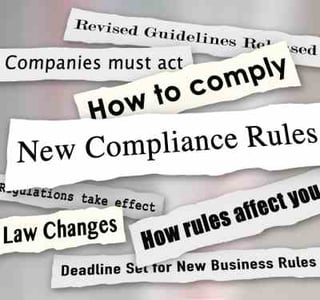 reimbursement plans for their employees are compliant with current laws. Today, we're taking a look at three common mistakes businesses make regarding health reimbursements, as well as an easy, compliant way to make a health reimbursement arrangement (HRA) work for small business owners.
Mistake 1: Paying Employees' Health Insurance Premiums Directly
If your company pays your employees' health insurance premiums directly, the IRS considers this an employer payment plan (EPP), which is not compliant with the IRS code because it doesn't cover basic preventive care required by the market reforms under the Affordable Care Act (ACA).
The IRS issued further guidance for small businesses in Notice 2015-17, stating that companies with fewer than 50 full-time employees are noncompliant if they use EPPs to reimburse workers for individual policy premiums.
Mistake 2: Requiring Employees to Submit Proof of Health Insurance
In lieu of group health coverage or a reimbursement plan, some businesses opt to provide additional taxable compensation to their employees in the form of a health insurance stipend. There are pros and cons to this approach, with the chief drawbacks being tax consequences for both the company and the employees. If you choose to provide a stipend, however, you can't ask employees to provide proof of health insurance, as the IRS considers this an EPP.
Learn more about the rules for giving employees cash for health insurance.
Mistake 3: Offering an Outdated HRA
The rules regarding HRAs have changed several times over the past few years, which can make it difficult to keep track of what's compliant and what's not.
Many employers are familiar with the Stand-Alone HRAs of the past, which became ineligible under the ACA in 2013. However, the Small Business HRA, which became available January 1, 2017, as part of the 21st Century Cures Act, resurrects the benefits of Stand-Alone HRAs for small businesses.
Here are the key differences between the pre-ACA Stand-Alone HRAs and the new Small Business HRA. To avoid costly mistakes, make sure your arrangement adheres to all specifics in the Small Business HRA column.
| | | |
| --- | --- | --- |
| | Stand-Alone HRA (2+ participants) | Small Business HRA |
| Currently available and compliant? | No. | Yes, effective January 1, 2017. |
| Limits on company size? | No. | Yes. Available only to businesses with fewer than 50 full-time-equivalent employees. |
| Eligibility restrictions allowed? | Yes. Businesses may restrict eligibility based on bona fide job criteria. | No. Generally, all employees are eligible for the HRA. Businesses may exclude employees who are part time or seasonal. |
| Employees required to have insurance? | No. | No. |
| Different contribution amounts allowed? | Yes. Businesses may restrict contribution amounts based on bona fide job criteria and/or family status. | Yes, but limited. Generally, a company must make the same HRA contributions for all eligible employees. However, amounts may vary based on family status. |
| Annual contribution limits? | No. | Yes. HRA annual contributions will be capped at $4,950 for a single employee and $10,000 for an employee with a family. |
Conclusion
If you've been making a health insurance reimbursement mistake, there is an easy fix. The Small Business HRA is a simple and compliant way to reimburse employees for health insurance without running afoul of IRS rules.
What are your questions about the Small Business HRA? Let us know in the comments below.