There's just one week left before the deadline to sign up for individual health insurance coverage under the Affordable Care Act (ACA), and new polling numbers find that the number of the uninsured in the country continues to fall.
According to the latest Gallup poll, the percentage of Americans without health insurance is 15.9% as of February 2014, compared with 17.1% in the fourth quarter of 2013. The uninsured rate is on track to be the lowest quarterly level measured since 2008.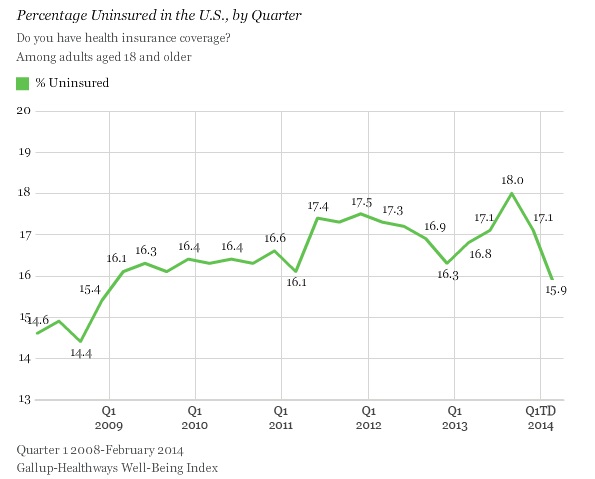 Is the Affordable Care Act (ACA) Making a Dent?
According to Gallup, the overall drop in the uninsured rate could be because of the ACA's individual mandate provision, health insurance marketplaces, and subsidized premiums.
At the end of February, HHS reported 4 million people signed up for health insurance coverage through the marketplaces established under the ACA. With the open enrollment period scheduled to close on March 31, more uninsured will enroll in coverage and it's likely the uninsured rate will continue to fall. The Gallup report also pointed to these ACA factors that may impact uninsured rate over time:
Now, Americans will be able to renew old health insurance plans for up to three years, even if the plans do not comply with ACA policies.

Larger employers will face penalties if they don't provide health insurance to their employees by 2015 or 2016 (depending on their size).
Trends in the Uninsured
According to Gallup, the uninsured rate for most major demographic groups dropped in 2014 so far.
The uninsured rate among Americans with an annual household income of less than $36,000 has dropped the most to 27.9 percent - down 2.8 percentage points since the fourth quarter of 2013.

The uninsured rate among 26- to 34-year olds and 35- to 64-year olds continues to decline, now at 26.6 percent and 16.3 percent, respectively. Though the drop in the uninsured rate is among slowest for young adults, experts say young people's enrollment in the law is crucial to the success of the law. As such, young adults have been a focus of the administration's focus.

Hispanics remain the subgroup most likely to lack health insurance, with an uninsured rate of 37.9 percent.

Fewer Americans are getting health insurance through a current or former employer. This subgroup fell nearly two points so far in the first quarter of 2014 to 43.4 percent.

More Americans now say their primary health insurance coverage is through a plan fully paid for by themselves or a family member compared with at the end of 2013 -- 18.1% vs. 17.2%.
Gallup results are based on telephone interviews conducted as part of the Gallup-Healthways Well-Being Index survey January 2 - February 28, 2014, with a random sample of over 28,000 adults living in all 50 U.S. states and the District of Columbia.
Source: Gallup (March 10, 2014).