Americans who enrolled in individual health insurance policies through the Marketplaces are generally happy with their coverage. Additionally, the rate of uninsured people ages 19 to 64 has dropped significantly. This is according to a survey conducted by the Commonwealth Fund.
The Commonwealth Fund's Gaining Ground survey suggests that despite the controversy surrounding the Affordable Care Act, a majority Americans who purchased Marketplace health insurance coverage are "very or somewhat optimistic that the new coverage will improve their ability to get the health care they need."
Individual Health Insurance Customers Generally Happy with Coverage
The survey revealed that enrollees with Marketplace coverage are satisfied with their level of coverage, access to healthcare, and affordability of their policies. Certain demographics are more satisfied than others; these included young people, Medicaid enrollees, and Democrats.
According to the report:
81 percent of enrollees are very or somewhat optimistic that their coverage will improve their access to health care.

More than half of new enrollees report they are better off now than before enrollment.


85 percent of enrollees who self-identified as Democrats are very or somewhat satisfied with their health insurance coverage, compared with 75 percent of self-identified Republicans.

While 73 percent of older adults report their satisfaction with their new individual health insurance coverage, 87 percent of young adults report their satisfaction. This may be in part due to the fact that previously, many of these young adults were uninsured.

60 percent of enrollees with new policies visited a provider, hospital, or paid for a prescription. Of these, 60 percent reported they would not have been able to afford or access this care prior to their new coverage.
Rates of Uninsured Americans Decreased After Open Enrollment 2014
Another major trend revealed in the survey is that the rate of uninsured Americans has dropped significantly, especially among certain demographics such as young people, people with low-to-moderate incomes, and Latinos.
According to the report:
The rate of uninsured Americans ages 19 to 64 decreased from 20 percent (July to September 2013) to 15 percent (April to June 2014).

There are an estimated 9.5 million fewer uninsured individuals.

The most considerable decline in the uninsured rate for any adult age demographic was in young adults, ages 19 to 34. The uninsured rate for these individuals fell from 28 percent to 18 percent - that's 5.7 million fewer uninsured young adults.

The most substantial decline in the uninsured rate for any ethnic group was within the Latino community. The uninsured rate fell from 36 percent (July to September 2013) to 23 percent (April to June 2014).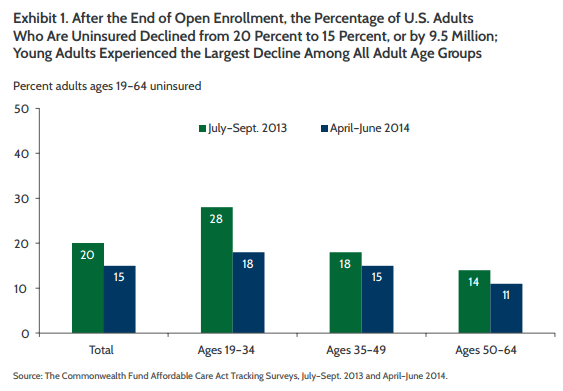 Source: The Commonwealth Fund

What has been your experience? Are your employees or clients happy with their individual health insurance coverage?