Businesses are transitioning to premium reimbursement of individual health insurance because it offers predictable costs to the business, while providing employees access to quality health insurance. Premium reimbursement reduce the cost and time associated with traditional health insurance, while maintaining all of the benefits employees love. Small and medium-sized businesses are transitioning to premium reimbursement plans because of: controllable costs, happier employees, and painless administration. This article provides an overview of these three benefits.
1. Controllable Costs
Being able to set, control, and predict all health benefits costs is revolutionary for many businesses. Premium reimbursement plans give your business controllable costs by:
Defining your budget by setting any contribution amount to employees' healthcare.

Giving employees access to monthly healthcare allowances.

Allowing employees to select their own individual health insurance policies.

Reimbursing employees only for eligible health insurance premiums up to the amount in their healthcare allowance.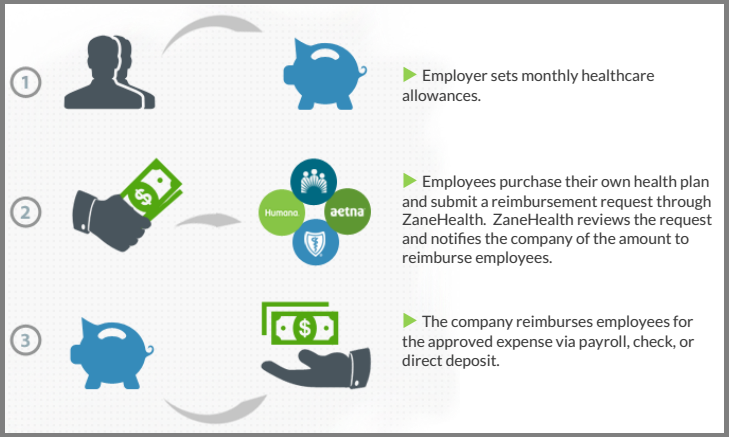 2. Happier Employees
In order for a health benefits program to work, it has to meet the business's budget and provide value to employees. The following aspects of premium reimbursement for individual health insurance contribute to happier employees:
Individual health insurance costs up to 60% less than traditional group health insurance.

Individual Health Insurance is Now Guaranteed Issue. The ACA's Pre-existing Condition Exclusion ("Guaranteed-Issue") provision prohibits health insurers from denying coverage to individuals due to a pre-existing condition

Employees may qualify for premium tax credits, depending upon their income level, household size, and eligibility for other government subsidized programs. Other factors that may influence the cost of individual insurance include: location (state/country), age, type of health plan selected, and tobacco use.

Individual health insurance offers more choice and control to employees by allowing them to choose a plan that fits their own needs, including coverage level and network. Employees can choose their own plans to work with their budget. These plans can be customized to individual circumstances and age.
3. Painless Administration
Every small business owner or HR manager wants to spend more time on strategic issues, and less time renewing health insurance plans. With the reimbursement of individual health insurance premiums, administration becomes a payroll function. Once set up, it takes 5 to 10 minutes a month. Once the plan is set up, the business's administrative activities include:
Adding approved reimbursements to payroll.

Enrolling new employees online.

Terminating employees from the plan when they leave the company.

Providing education to employees about the benefit.

Connecting employees with an insurance agent for insurance questions.
Using premium reimbursement software helps employers with the administrative tasks of the premium reimbursement plan and ensures compliance. Some employers consider self-administering a premium reimbursement plan without compliant software. Remaining in compliance with federal regulations and health reform can be costly, time-consuming, and an administrative hassle for employers.