I love working for a small business. In a smaller office, my day-to-day impact is much bigger, and when I wake up in the mornings, I know I'm going to make a difference.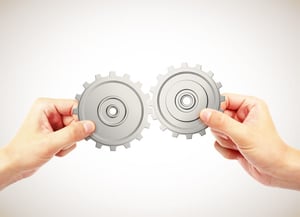 But health insurance is also important to me—and, unfortunately, quite a few small businesses don't offer health benefits. For many years, that led to a hard choice: Join a larger company that offers benefits, or go without benefits to work for a small business.
That's not the case anymore. I now work for a small business that offers me a Qualified Small Employer Health Reimbursement Arrangement (QSEHRA), or Small Business HRA.
With a QSEHRA, I purchase individual health insurance and my company reimburses me, up to a monthly allowance amount, with tax-free money. I can even use leftover allowance money for other medical costs, like prescriptions or doctor visits.
It's been an invaluable help to me and my family. Let me tell you how.
My family's health needs
In our family, we have some important health needs. My husband has epilepsy and needs to see an epileptic neurologist, and I have poor vision and rely heavily on a contact lens prescription that needs to be updated frequently.
Under company-sponsored health insurance, I always had to wait and see whether my employer would choose a plan that covered our needs.
Now, my employer isn't involved in that decision. Instead, I get to decide on the best coverage for my family and our needs by choosing my own insurance policy. I can choose my doctors, make sure my husband's epileptic neurologist is in our network, and budget so that any leftover money from my company can be used on my vision needs.
First, I started by choosing a policy.
Choosing a policy
I had the opportunity to learn a little bit about the QSEHRA and how it works before I applied for insurance during the last open enrollment season. Because of that, I could make sure I didn't accept a tax credit, thereby avoiding repaying the government in my 2018 taxes.
After I filled out my application, I had a number of policy options. I was surprised to learn that the premium for our current policy—a Gold-level policy—was increasing by quite a bit. In fact, the monthly premium was going to almost double in 2017.
I looked instead at the Silver plan offered by the same carrier, and my husband and I did a quick cost analysis.
The QSEHRA allowance my company offered me would cover the full Silver premium with a little left for other medical expenses. However, it would only reimburse about 80 percent of the Gold-policy premium.
We had to consider the costs associated with our existing medical conditions, as well as other medical expenses we might have during the year. If we went with the Gold plan, we could have a lower deductible and better coverage, but we would be paying for the entire deductible and other medical expenses ourselves, since the cost would be beyond my QSEHRA allowance.
Ultimately, we decided on the Silver plan. Considering everything we learned during our cost analysis, we decided that the loss of a little coinsurance coverage in order to move to a Silver plan was offset by the reimbursements we could get for my husband's monthly prescriptions and our other potential expenses.
Getting health care under a QSEHRA
I am so grateful I work for a company that offers a QSEHRA. The concept is convenient, valuable, and flexible—and unlike group insurance, it gave me the freedom to make a policy decision that makes the most sense for me and my family.
Thanks to the monthly allowance from my company, we not only found a policy that covers my husband's neurologist, but we also had enough left for me to visit the eye doctor and update my contact lens prescription. I had been putting off that visit because the copay, new prescription, and new glasses were going to be expensive. Now, I know my company will be reimbursing me for that cost, and it's no longer a financial burden.
Finally, the QSEHRA helps me feel comfortable working for a small business and a company I love. I no longer have to make the decision between health care and the place I most prefer to work.