As a vision clinic owner, you wear many hats. Aside from tending to patients throughout the day, you might be helping your office manager with files, hiring, and completing payroll. Whatever your particular case may be, there's no doubt payroll is an essential aspect of your vision clinic operations. So, what are your options? My advice is to go high-tech or go home with your vision clinic's payroll.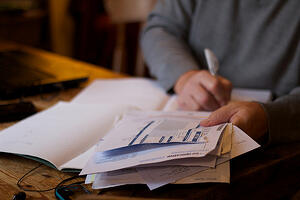 How Vision Clinics Administer Payroll
There are three main options when it comes to your clinic's payroll: software, outsourcing, or informally with paper or spreadsheets.
Software: The most common way vision clinics administer payroll is via software. Payroll software is easily purchased online, but you should be aware of the various features offered to ensure it is worth the price (see "Key Features of Payroll Software" below).
Outsource: This approach is also common in many vision clinics because it saves time. If you choose to outsource, be sure the company integrates payroll and Human Resource Information Systems (HRIS). This means they'll manage employee information, reporting, handbooks, etc. However, outsourcing can be costly and some vision clinics do not feel the cost outweighs the benefits.
Informal System (Paper or Spreadsheets): Believe it or not, many vision clinics are still administering payroll and keeping track by using paper or spreadsheets. While this is not the most ideal payroll solution for small businesses, it is common simply because it is cost-effective. However, the cost savings versus buying software or outsourcing are minimal considering the time it takes to record and administer.
Out With the Old, in With the New
No matter which solution you choose for your dental clinic's payroll, it's no secret payroll is an important aspect of your business and should not be taken lightly. It is imperative that your vision clinic payroll is done properly because doing so lowers state and federal taxes for your business. Done incorrectly, and you could pay extra. As such, if you're currently administering and tracking payroll for your employees solely by paper or spreadsheets, consider using payroll software or outsourcing as a safer solution.
Key Features of Payroll Software
Though payroll software is not the only effective way to administer and track payroll, it is accurate and cost-effective. Here are key features to look for if you choose to use payroll software for your vision clinic:
Direct deposit capability

Employee classification

Historical reporting

Standard reports

Security controls

Detailed employee notes section
Conclusion
As a vision clinic owner, you want to spend more time with patients and operations and less time administering payroll and HR. And if done incorrectly, payroll can cause more costly headaches. The good news is there are now cost effective high-tech options for payroll that allow you to save time and money, and have peace of mind when it comes to paying employees.
What are your tips or questions about payroll? Leave a comment below.