Health Care Reform has dramatically changed the health benefits landscape for small business owners. New options are available and small businesses are re-evaluating their health benefits strategy... especially if health benefits were out of the question in the past. At the same time, many small business owners are unsure how Health Care Reform impacts them. Here are key highlights for small business owners on the Affordable Care Act -- a Health Care Reform "for Dummies".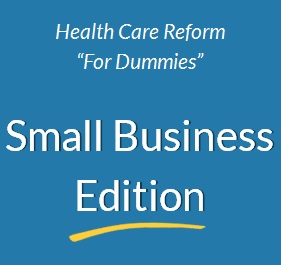 What has Changed for Small Business?
Many of the major changes associated with Health Care Reform are being implemented in 2014. Whether or not these changes impact you depends on the type of health coverage you offer (if any). Here are some of the relevant changes affecting small businesses:
Unsure which reforms affect your small business? Download this PDF Health Care Reform Checklist.
Do I Have to Offer Coverage?
No business has to offer coverage. However, some larger businesses may pay an Employer Shared Responsibility Fee if they don't. Here's what small business owners need to know.

What Happens to My Employees if I Don't Offer Coverage?
If employees of a small business are not provided health insurance coverage at work, they are not out of luck. But, they do need to be aware that:

Health Benefit Options for Small Business Owners

Small business owners are often surprised to find better options for offering benefits outside of traditional group health insurance plans. For example:

If you're a small business owner, what questions do you have about Health Care Reform? Leave us a comment.