Today, nearly half of small businesses do not offer health insurance, with the primary reason being cost. That's more than 2.3 million U.S. small businesses that do not offer health insurance.
Traditional Small Business Health Insurance is Not Sustainable
When you look at the cost of traditional health insurance it's not surprising that many small businesses have been priced out of the group health insurance market.
In 2013, the average group health insurance premium to cover a single employee was $5,884/year and $16,351/year for family coverage. Premiums have more than doubled since 2002, and increased 168% since 1999.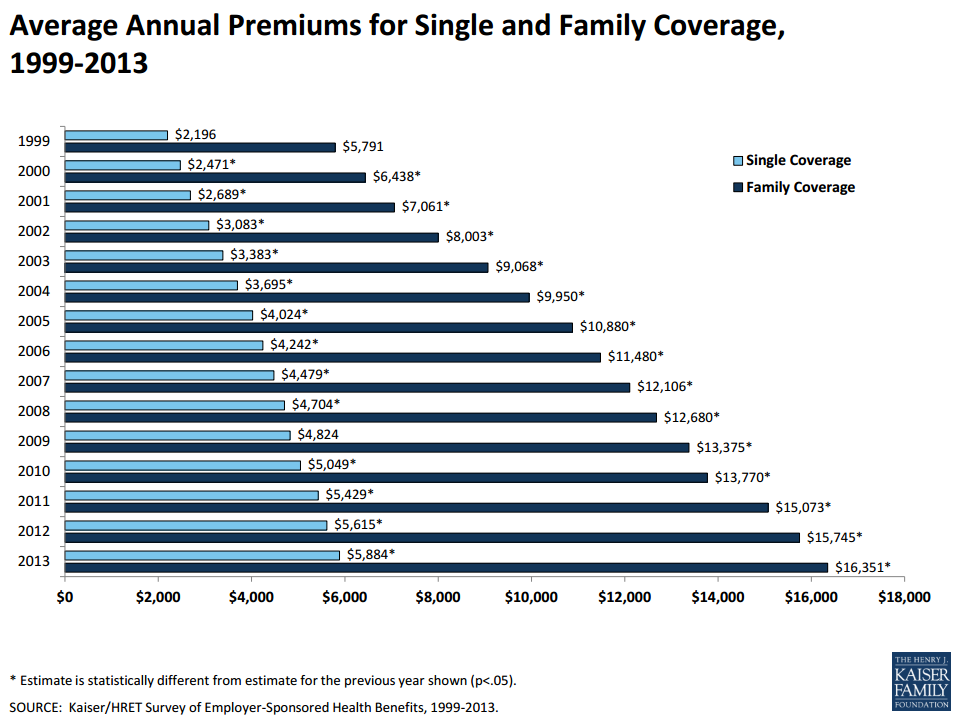 Source: KFF
It's become the norm for small businesses not to offer traditional health insurance, but a health benefits package can be the deciding factor for a potential new hire.
Small businesses are faced with a tough decision: Can we afford group health insurance now, and in the long-term?
But, is this the right question to ask?
A New Way to Think About Health Benefits
Many small business owners incorrectly believe traditional group health insurance is the only way to offer employees proper health benefits. As a result, many small business owners rule out employee health benefits altogether due to the cost challenges described above.
This is the "old-school" way to think about small business health benefits.
Thanks to health care reform and new advantages to individual health insurance, small businesses now have a new option for sustainable health benefits that helps them compete with larger companies for top talent: "Pure" Defined Contribution Health Benefits.
Adopting Defined Contribution for Sustainable Health Benefits
With "pure" defined contribution health benefits, the business offers employees health insurance allowances ("defined contributions") to use on individual health insurance. There is no group health insurance plan. Employees can purchase any qualified plan and receive reimbursement up to the amount of their allowance.
Of all small business health insurance solutions out there, "pure" defined contribution achieves the most controllable and sustainable costs for the business and employees. That's because:
The business defines their budget by setting any contribution amount to employees' health care. There are no minimum employer contribution amounts and no annual renewal increases or fees.

The business decides which employees to offer the health benefits to by using employee classes. This allows the business to focus resources on employees who are vital to the business.

The business only reimburses employees for eligible premiums up to the amount of their health care allowance. Any unused fund stays with the company.

Defined contribution stretches the business's health benefits dollars farther. On the individual market, health plans are much less expensive than group coverage. And eligible employees can access health insurance tax credits.
Why don't more small businesses offer defined contribution health benefits? I think it's because they don't know the option exists. What do you think?