Employer Continue to Cancel Employer-Sponsored Health Insurance
The number of Americans getting their health insurance through their employer is the lowest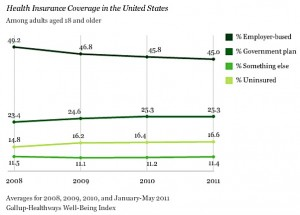 since Gallup began tracking the numbers in January 2008.
44.8% of American Adults Get Health Insurance from an Employer
According to a recent Gallup poll, less than half (44.8 percent) of American adults get their health insurance through an employer.
Gallup polled nearly 30,000 Americans for this latest poll.
Click here to read the findings.