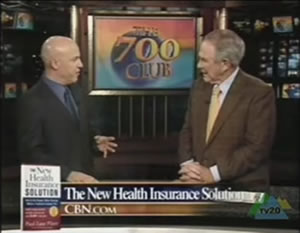 Pat Robertson interviews Paul Zane Pilzer on Defined Contribution Employer Health Benefits See video
Selected Quotes:
In 46 states today, individual health insurance is actually half the price of group or employer health insurance
In 46 states, the states liberalized their laws, allowing insurance carriers to underwrite each applicant. Today, 90 percent of Americans who are basically healthy can get an individual Blue Cross/Blue Shield plan from a carrier in their state for half the price of their employer plan.
Before this year you had to pay for it [personal health insurance]with after-tax dollars. Starting this year.....your employer can give you a tax-free allowance, saying, 'Here's $14,000 or here's $10,000. Go buy your own health insurance totally tax free.'
What really kicked in this year was state-guaranteed coverage. We've always had government coverage for people who are old called Medicare or government coverage for poor people called Medicaid...[and now] all states have guaranteed government coverage for people with medical conditions.