With major provisions of health reform taking effect now and into 2014, many experts agree the landscape of employer health insurance is rapidly changing.
Change is a disrupter, however for small businesses who have been increasingly priced out of traditional health insurance options, change is opening up new opportunities to offer employee health insurance. To understand the new opportunities, it's important to understand the landscape of small business health insurance now.
Here are five data points on small business health insurance - including a couple statistics that may surprise you.
1. Why Small Businesses Offer Health Insurance
Most small businesses offer health insurance for the same reasons as larger employers -- because of a moral obligation (44%) and to recruit and retain talented employees (33%).
2. Why Small Businesses Don't Offer Health Insurance
Of the small businesses who do not offer health insurance, the majority (61%) say cost is the primary reason.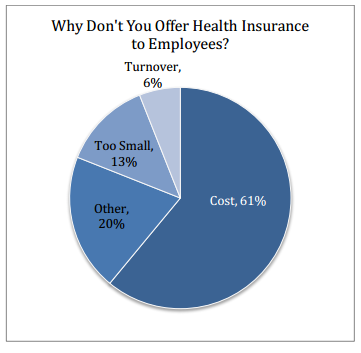 3. Small Businesses Who Don't Offer Health Insurance May Be Shopping
Small businesses who don't currently offer health insurance may have offered benefits in the past, and/or may be shopping. Of small and medium businesses (less than 200 employees) who do not offer health insurance:
A third shopped for health insurance from 2009-2011 (but did not buy). This dropped to 15% in 2012.

Between 15% and 27% offered health insurance in the last 5 years.
This is significant because it means that they likely want to offer health insurance, but may not be able to afford traditional employer-sponsored group health insurance. It's many of these small businesses who are adopting defined contribution health plans (see this overview of defined contribution plans).
4. Small Businesses Canceling Group Health Insurance
The rate of premium increases for group health insurance is unsustainable, particularly for small businesses. The percent of employers providing group health insurance has been on a decline for the past decade due to the cost increase and due to alternative options to group health insurance.
The number of small businesses (with less than 50 employees) that offer health insurance dropped from 43% in 2006 to 35% in 2012.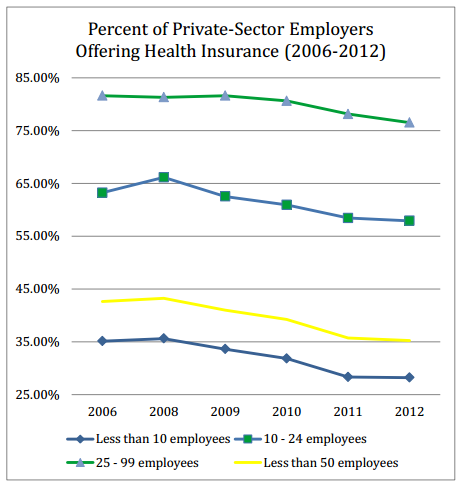 5. Affordability and Value Most Important to Small Businesses
When small businesses shop for and compare health insurance, the top features they look for are:
Affordability (95%)

Richness of benefits offered (value) (68%)

Access to the right network of doctors (25%)

The insurance company's 'brand' (6%)

Health Savings Accounts (HSAs) (4%)

Other (3%)
And, employees opinions about their health benefits matter. 72% of small businesses ask their employees all the time, or sometimes, about their opinion on health benefits.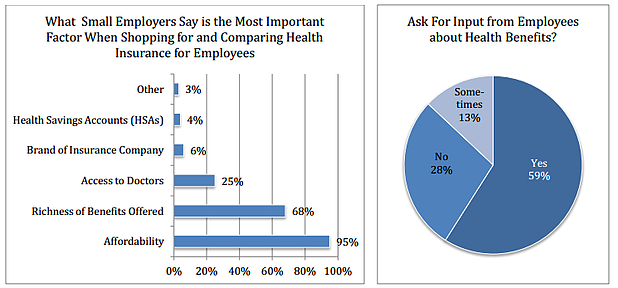 Sources: Various sources via Employer Health Insurance Facts & Figures 2013.
Did any of these statistics surprise you? Leave a comment below.