On Novermber 13th, Health and Human Services (HHS) announced that over 106,000 individuals selected a plan from the individual health insurance Marketplaces in the first month. With the Affordable Care Act and the Marketplaces under close scrutiny, everyone is closely watching the enrollment numbers.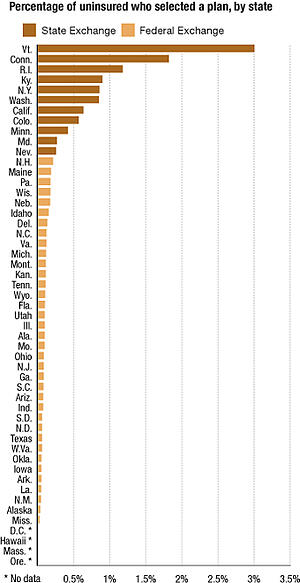 Here are three key stats provided by HHS on Marketplace enrollment and activity for October 1, 2013 through November 2, 2013:
106,185 individuals selected plans

975,407 individuals applied and received an eligibility determination for tax credits and subsidies, but had not yet selected a plan

396,261 individuals were determined or assessed eligible for Medicaid or the Children's Health Insurance Program (CHIP)
Of note is that of the 106,185 who selected a plan, only 26,794 (25%) were through the federally-run marketplaces. The state-run marketplaces (Vermont, Connecticut, California, Colorado, Washington, etc.) have been doing a better job enrolling individuals than the federally-run marketplaces. See the chart to the right showing the percentage of uninsured who have selected a plan, by state (chart source: NPR).
The administration originally projected that 500,000 individuals would enroll by the end of October.
HHS also provided the following marketplace website stats:
26,876,527 unique visitors to state and federal websites.

3,158,436 consumers got in touch with state and federal call centers that are set up to help people navigate the new Marketplaces.
Health Insurance Marketplaces Enrollment Report
Here is the full report from the administration via HHS/ASPE.
These initial numbers are all over the news this week. Supporters of the ACA say "don't freak out" over the initial enrollment numbers. It's too soon to tell. Critics of the ACA say it's another example of the problems with the ACA.
What do you think? Leave a comment.