Small business health insurance. Where have we been and what does the future look like? This new infographic takes a look at the history and future of small business health insurance.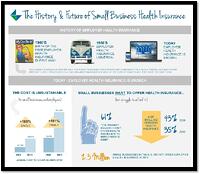 Did you know employer health insurance originated in the 1940's as a way to increase non-taxable income during WWII wage controls? Tweet this stat!

Did you know only 35% of small businesses offer health insurance to employees? That's 2.3 million small businesses in the U.S. who do not offer health insurance. Tweet this stat!

Did you know 60% of educated employers plan to transition away from traditional health insurance and adopt alternative solutions such as defined contribution health benefits? Tweet this stat!
Infographic - The History and Future of Small Business Health Insurance

Share this infographic on Pinterest.
Share this infographic on your website - get the embed code here.
Click here for a PDF version via SlideShare.
What infographic on small business health insurance would you like to see next? Leave feedback or questions in the comments below.