Will individual health insurance exchange enrollment follow the same pattern as Medicare enrollment? Does this shed light on what individual health insurance enrollment will look during the open enrollment period (Oct. 1, 2013 to March 31, 2014)? In a recent analysis, Avalere Health compared enrollment trends of Medicare Part D to the initial trends in the individual health insurance exchange open enrollment.
Avalere Health reviewed monthly enrollment numbers for individuals who voluntarily enrolled in Medicare stand-alone prescription drug plans (PDPs) and aligned the milestones of the Part D initial open enrollment period with those of the initial open enrollment period for exchanges. Then, they applied the trajectory of voluntary enrollment in Part D to the May 2013 Congressional Budget Office (CBO) estimate of 7 million total exchange enrollees for 2014. Medicare Part D open enrollment ran from November 15, 2005 to May 15, 2006. Exchange open enrollment runs from October 1, 2013 to March 31, 2014.
What can we learn? Here's what they found: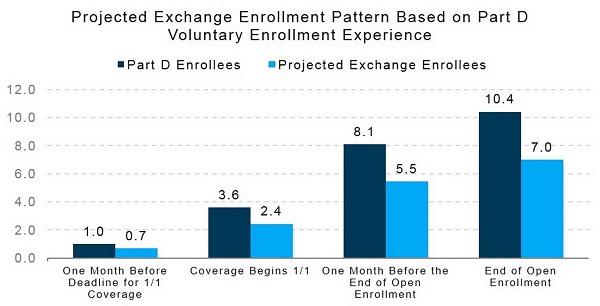 Will Individual Health Insurance Exchange Enrollment Follow Medicare Trends?
In late October the federal government announced that 700,000 people nationwide had submitted applications for coverage in the new health insurance exchanges. Using Medicare Part D as a historical benchmark, only 10% of voluntary Part D enrollees in stand-alone plans had enrolled in coverage as of December 2005, a month before drug coverage first became effective. If the Part D enrollment experience is applied to exchanges, fewer than 700,000 people would be expected to enroll in exchange coverage by November 15, 2013. At the time of analysis, an unknown factor was what portion of the 700,000 applicants will complete their purchase and enroll in a plan. This week it was released that approximately 50,000 had enrolled in coverage in the federally-run individual health insurance exchanges.
Avalere's analysis found that two-thirds of Medicare beneficiaries who voluntarily enrolled in a stand-alone Part D plan during the initial enrollment period signed up after coverage began on January 1, 2006.

Twenty-two percent of Part D enrollees signed up in the final month of the open enrollment period, suggesting that nearly 1.6 million people could wait until March to enroll in an individual health insurance exchange plan.
It is noted in the analysis that the two health insurance programs are very different in nature. Medicare beneficiaries already had health insurance and were only looking to add drug coverage. This could explain why the exchange applications are coming in more quickly than Part D, despite technical website glitches. Many people have historically been excluded from the individual health insurance market and those who are receiving large subsidies have strong incentive to sign up early for exchange plans.
Read the full Avalere Health analysis here.