Experts agree that encouraging employees to be better healthcare consumers is necessary for controlling healthcare costs. Employers are following suit by transitioning in masses to consumer-driven and defined contribution health benefits models. However, studies also show that employees are nervous about being in the driver's seat with health insurance. So with more companies requiring employees to be hands-on with health insurance, what can you do to help employees become better health insurance consumers? Here are three tips.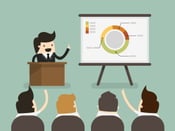 1) Education Education Education
Benefits are complex, and with the increase of defined contribution, public and private exchanges, and high-deductible health plans, consumers need education to make the best decision about what plan to choose, and how to get the most value out of their health benefits.
A September 2013 study from Carnegie Mellon University found that the majority consumers do not understand basic health insurance concepts. In fact, only 14% of respondents could correctly define all four of these basic health insurance concepts: deductibles, co-pays, coinsurance, and out-of-pocket maximums. And yet, most respondents said they believed they understood these terms.
To combat the lack of understanding with health insurance concepts, best practices reveal that benefits education should start early and continue throughout the year. By presenting the information in a fun and visual way, and in multiple formats, employees will better understand, apply, and retain the information.
One idea - a pop quiz. There are numerous health insurance quizzes circulating online right now. Here's an example from NPR: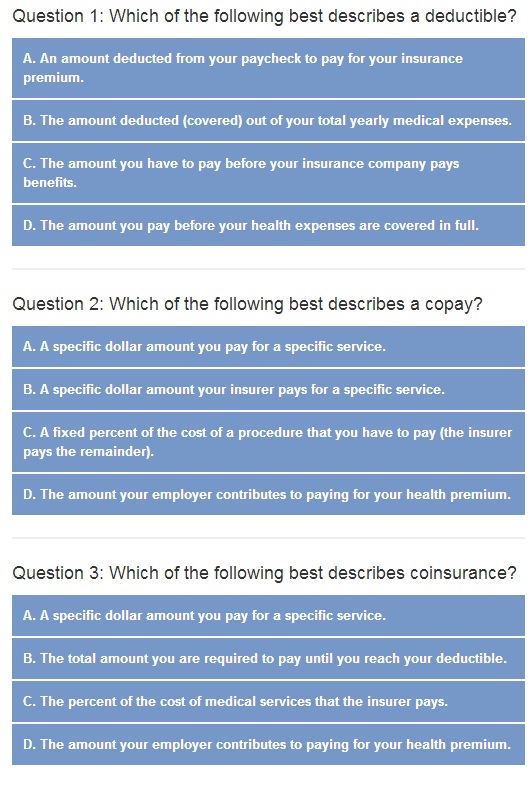 Source: NPR (Click link for an interactive version of the quiz, and two more questions.)
(Quiz Answers: 1-C, 2-A, 3-C)
2) Transparent and Personalized Cost Information
Providing transparent cost information to employees helps them become better health insurance consumers, and better healthcare consumers too. Employees need to see what their provider charges and what their out-of-pocket costs will be based on their plan's co-pay amounts, co-insurance, deductible, etc.
To help consumers understand their coverage and costs, they need to see plan options on a side-by-side basis. The new public health insurance exchange formats take a stab at providing transparent cost information by having standard tiers of coverage, and clear cost information.
Employers can help employees compare plans and understand the true costs of what they're signing up for by working with a health insurance broker. Brokers will help employees run through different medical scenarios under different plans to understand their potential health care costs over the course of the year, and can answer specific questions about terms and coverage.
3) On-Going Engagement & Support
Lastly, to help employees become better health insurance consumers they need on-going engagement and support. Employees will need more than an annual meeting. They need on-going and regular engagement about how to use their health benefits and how health reform legislation impacts them.
These on-going activities and communication will foster better health insurance consumerism, help them understand and value the health benefits provided to them, and reinforce that the company cares about their health.
For more general tips on employee education see: Maximizing the Success of a New Health Benefits Program.
What are your strategies for helping employees become better health insurance consumers? We'd love to hear your ideas. Leave a comment below.