For health insurance agents, brokers, and consultants, the small business market -- approached correctly with the right health benefits solutions -- has formidable buying power.
When it comes to buying health benefits small businesses have unique characteristics that influence their decision making process. These buying characteristics are both similar and different to a larger business's buying process.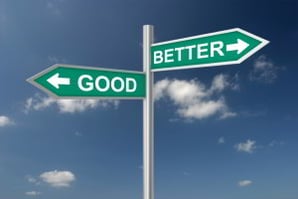 Recently, we outlined four characteristics of how small businesses commonly research, analyze, and buy health benefits (see article here). These included:
A highly centralized buying process
Business decisions made with a personal filter
Emphasis on return on investment (ROI)
Risk averse
How Small Businesses Buy In Comparison to Larger Businesses
Here are five ways small businesses buy health benefits, in comparison to larger businesses.
Budget-Focused: Small businesses usually have a tighter focus on their budget than larger businesses. They are focused on growing the business and increasing sales. Yet, they are also more conscious about wrong moves that will negatively impact what they've worked hard to build.

Value on Personal Relationships: Similar to larger organizations, small businesses value personal relationships. Relationships are the foundation of business transactions with vendors and suppliers.

Simpler Buying Process: A small business's buying process is usually less complex than in larger organizations, and they often make faster decisions. For example, there is usually more direct contact with the decision maker, there are less people involved in the buying process, and they can make quick decisions.

Fluid Budget: Even if a small business says they have a set health benefits budget, they are much more fluid and flexible with their budgets than with larger businesses. For example, it's easier to make mid-year budget revisions or shift expenditures from one category to another than at larger businesses.

Word of Mouth: Referrals and word-of-mouth carry a lot of weight with small businesses. Owners want to know their advisors and trusted vendors will be there for them in the long term to support the benefits solution. They are also very likely to ask trusted advisors and peers about business strategies and new vendors.
Shift from Salesperson to Consultant
Because of these characteristics of small businesses, health insurance brokers will have the most success when they shift away from "just selling" and into a consultative role.
One of the first ways to do this is to understand the small business's unique challenges. A small business may present a challenge or need, but what is the true challenge? Seasoned sales professionals will always say "the first question is never the actual question." Follow up with 2-3 more questions to get to the real pain and the real need. This help you understand their need, and build rapport.
Likewise, because a small business can have a shorter or more straight forward buying process, ask questions to understand where the prospect is in their buying process, and who the decision makers are. Who will be involved in the decision? What are their steps to make a decision? Who are the most influential decision makers? At what stages should they be involved? What does each decision maker want? What are his or her problems/needs? Match the steps of your sale process to where they're at in the decision-making process.
Once you understand their true challenges and their buying process, take an educational approach. Use specific numbers and analysis that help them solve their challenge.
If you're a health insurance broker or a small business owner, what similarities or differences do you see with how small businesses buy health benefits? Join the discussion in the comments below.