What do small businesses want in health insurance, and what is their understanding of how health reform impacts their business?
Here is an interesting infographic summarizing a recent small business health insurance survey.
Only 44% of small businesses understood health care reform's employer mandate correctly. Beginning in 2015, the Affordable Care Act (ACA) requires businesses with 50 or more full-time equivalent employees to either offer employees' health insurance or pay a fee. This does not apply to businesses with fewer than 50 employees -- but 56% think it does apply to them, or are confused by this requirement.

Only 18% of small businesses believe they can confidently define or explain what a health insurance exchange is, and 62% admit to not understanding exchanges at all.

Why offer health insurance? Nearly a third of small businesses (31%) say the number one reason they offer health insurance is to recruit talented workers. And, 44% say they offer health insurance because of moral obligation.

Are small businesses planning on dropping insurance in 2014? Most (67%) said no, 27% said maybe, and 6% said yes. Of course, most small businesses (~65%) don't offer health insurance currently.
Disclaimer: The views represented in this infographic does not necessarily reflect the views of Zane Benefits, its staff, or its affiliate partners. Source is listed below.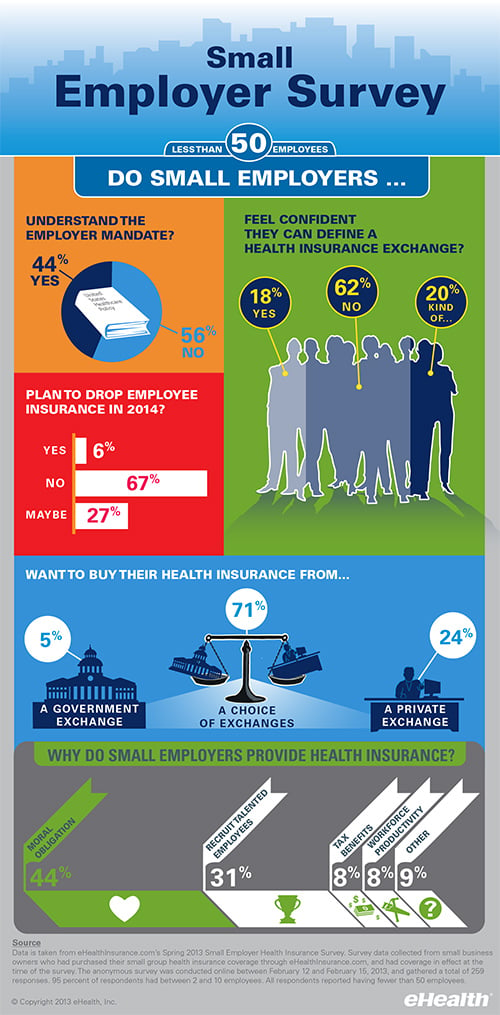 Source: eHealth Blog
Is this a good representation of how small businesses understand health insurance and health reform? Do you think these stats have changed over the last few months? Leave a comment below.