Will enough young adults enroll in the Exchanges? Young people are critical to the success of the new Health Insurance Exchanges, which opened on October 1, 2013. It's simple math; young, healthy people are needed to balance the risk pool.

Many have speculated that not enough young people will buy health insurance through the Exchanges, since they are much less likely to use their coverage.
According to a recent survey of young adults:
Over a third say that they're likely to go to their state's Exchange to purchase a plan during open enrollment this year,

Another third say they're on the fence, and

10% say that they definitely will not go to the Exchange to buy health insurance.
The goal of the administration is to get 2.7 million of the roughly 16 million uninsured 19-to-29-year-olds to buy health insurance for 2014. If the population stays true to what the polls have found, then this goal will be met. But nothing will be written in stone until the end of open enrollment, which arrives in March 2014.
94% of Young Adults Prefer to Have Health Insurance
According the September 2013 Tracking Poll by the Morning Consult, 94% of young adults, ages 18-29, prefer to have health insurance. And, almost half say that they are likely to go to the Health Insurance Exchanges to buy health insurance for 2014.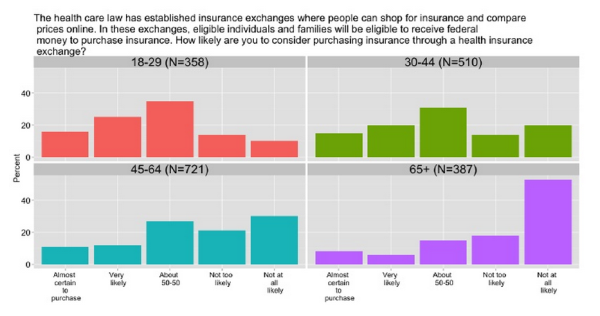 Source: Morning Consult
When polled on whether they plan on purchasing insurance or pay the individual mandate penalty, only 4% of 18-to-29-year-olds say that they are planning to pay the individual mandate penalty. The remaining 96% either already have health insurance or are planning to purchase insurance by March 2014.
Biggest Reason for Not Purchasing Insurance is Cost
When it comes down to it, the main reason Americans cite for not having health insurance is cost, regardless of age. The health insurance subsidies and Medicaid expansion being implemented as part of the Affordable Care Act aim to bring these premium costs down. Having subsidies will be especially valuable to young people, who generally have lower incomes.
Nothing will be certain until 2014 comes and goes, but it seems that in theory young people know and understand the value of health insurance coverage and at least plan on purchasing it for 2014.
Do you think enough young adults will enroll in health insurance coverage through the Exchanges? Join the conversation in the comments below. Or tweet us @ZaneBenefits.