One way small or growing businesses can gain a competitive edge is to focus on employee retention. Frequent voluntary turnover has a negative impact on employee morale, productivity, and company revenue. Recruiting and training a new employee requires staff time and money. Some studies predict that every time a business replaces a salaried employee, it costs 6 to 9 months' salary (see: Cost of Losing an Employee). And turnover is especially high with the Millennial generation (employees born between ~1980 and 2000, and also known as Gen Y).
So, what are Millennials looking for in a job? And, how can small businesses adapt their employee retention strategies to retain younger employees?
What Millennials Are Looking for in a Job
As with previous generations, employees attach importance to pay and career track record. Younger generations value this too, but they also want to feel supported and appreciated in return for their contributions -- praised even. Millennials are also more motivated to stay with an employer if they feel their work has a strong economic or social purpose. Here's a run-down of what Millennials are looking for in a job.
Positive Atmosphere: Is it a positive, action-oriented office environment?

Camaraderie: Are people in the office just coworkers or are they friends?

Mentorship: Is there someone to coach them through their job, and their career?

Growth: Is there room to grow within the company?

Praise: Are their good works acknowledged, and appreciated?

A Cool Boss: Are company managers strong leaders? Do they lead by example? Are they relatable and authoritative? Do they take time to listen to new ideas?

Flexible Benefits: When it comes to healthcare, 401k, and paid time off, studies show younger generations are more attracted to choice and flexibility.
Small Business Retention Strategies for Keeping Millennials Happy and Motivated
Given what Millennials are looking for in a job, here are five practical strategies for retaining the younger generations of employees.
1. Open up opportunities in the workplace
No matter the size of your company, create opportunities to grow professionally, and personally. Add extra exposure to employees' normal workday routines. Offer additional work that challenges your employees, and satisfies their curiosity for more experiences. These opportunities could come in the form of small projects, such as writing occasional articles for a company blog, or researching new technology or data available in the industry.
2. Give employees a clear sight on their careers
Allow young employees to be exposed to top-level management in the company, even as early as during training. Many larger companies have new employees shadow management to observe how management works through high-level challenges. A small business may not have the freedom or time for a new employee to be taken away from daily tasks, but in small businesses it is usually easier for top-level management to stay in close communication with entry-level employees. As such, keep the communication open, so that new employees have an idea of what goes on throughout the entire company.
3. Give their work purpose
Help your employees find meaning in their work. Even if your company is several steps removed from the value they contribute to society, it's possible to bring meaning and fulfillment to any job.
4. Allow for "reverse mentoring"
Along with training the new employee, allow the employee to share his or her knowledge and skills with the company. This could help your company update its technology or social media, and you might be surprised what other skills younger employees have to offer.
5. Provide health benefits that gives employees choice
Consumer driven health plans, such as pure defined contribution plans, are becoming a growing trend for small businesses. Younger employees value health benefits that are flexible and fit into their personal lifestyle.
Want more ideas for keeping Millennials happy and motivated? Here's an interesting graphic that reflects some of these ideas above, and offers a few new ideas as well.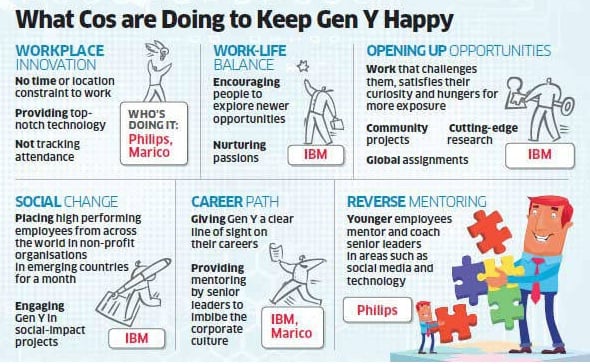 Image source: The Economic Times
Download our employee retention eBook to learn how to keep your most valued employees without breaking your budget.
Are these traits of Millennials accurate? What is your small business doing to keep Millennials happy and motivated? Add a comment below.