The Hawaii Health Insurance Exchange, also known as the Hawaii Health Connector, recently released approved premium rates for it's Exchange. According to a press release from the Hawaii Health Connector website, "the plans are so far among the lowest in cost in the nation."
In the press release, Governor Neil Abercrombie is quoted saying, "The State of Hawaii continues to be a leader in our nation's healthcare transformation. Hawaii residents are seeing the benefit of collaboration between state government agencies, insurers and nonprofit stakeholders in the implementation of the federal Affordable Care Act. We are working together toward our shared goal of universal healthcare and ensuring access to quality health care for everyone in our state."
Hawaii Health Insurance Exchange – Health Plan Rates and Carriers
The Hawaii Health Insurance Exchange, like all of the state health insurance exchanges, will be offering plans in four different metallic levels, standard levels of plan coverage. These levels are:
Bronze: play pays 60%
Silver: play pays 70%
Gold: play pays 80%
Platinum: play pays 90%
Beyond these coverage levels, premiums rates will vary based on age, family size, location, and tobacco use. A total of 95 insurance plans will be offered through the Hawaii Health Insurance Exchange. The table below shows the average individual health insurance rates by type of plan and age.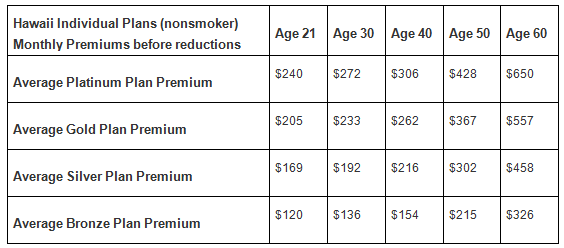 According to the Hawaii Health Insurance Exchange and the Kaiser Family Foundation, Honolulu's rates before any subsidies or cost sharing for a 40-year-old would be the third lowest ($217), after Albuquerque, NM ($212), and Portland, OR ($201). Avalere Health came to a similar conclusion, finding Hawaii's average monthly rate for each of the four metallic levels are the lowest in the nation so far, again before cost sharing or subsidies.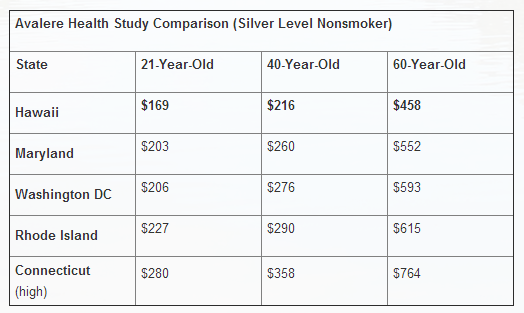 Two insurance carriers will offer plans on the Exchange: Hawaii Medical Service Association and Kaiser Permanente.
Click here for more information on the Hawaii Health Insurance Exchange.
What questions do you have about the health plan rates with the Hawaii Health Insurance Exchange? Leave a comment below.