Do you understand basic health insurance terms such as deductibles, co-pays, co-insurance, and out-of-pocket maximums? Those of us in the health benefits industry are ahead of the general public -- but a current study found that only 14% could correctly answer a quiz about basic health insurance terms.
This is important because competition drives down prices and improves quality in any product. But research shows that when it comes to consumer competition, prices are not going to go down unless consumers are making informed decisions. In markets with large groups of misinformed, or naive consumers, consumers pay significantly more than the value of the product.
Health insurance is a prime example of this. As we wrote about recently, the group health insurance model is broken. The costs of health care continue to rise, and although this is due to a number of factors, misinformed consumers is definitely one of them.
Here's what the study by Carnegie Mellon University found about consumer understanding of health insurance basics.
Consumers Lack Understanding of Health Insurance Basics
The recent study from Carnegie Mellon University found that the majority consumers do not understand basic health insurance concepts. In the study, ~200 respondents were first asked if they understand the four fundamental concepts of health insurance:
Deductibles
Co-pays
Coinsurance
Out-of-pocket maximums
They were simply to choose "yes" or "no" as to whether or not they knew what these are. Next, they were then asked a multiple choice question as to what the definition of each of these terms is.
Think you could answer correctly? Give it a shot -- these were the exact questions asked on the survey:




Source: Washington Post
The answers are at the bottom of this article. Did you get them all right? If not, you are not alone. Only 14% of survey respondents could answer all four of those questions correctly.
Furthermore, over 90% of respondents said they believed they understood deductibles, co-pays, and out-of-pocket maximums, when in reality, only 78% showed understanding of deductibles, 72% showed understanding of co-pays, and only 55% showed understanding of out-of-pocket maximums.

Source: Carnegie Mellon University Study
Respondents Answered 58% of Health Insurance Questions Correctly
The survey continued on to ask respondents a series of multiple choice questions on the costs of specific medical services, depending on whether they had spent their deductible or not, whether or not they were using in-network services, and whether they had reached their out of pocket maximum. The questions required few, if any, numerical calculations to focus on their understanding of the actual mechanics of a health insurance plan. The percent of correctly answered questions are shown below. Overall, only 58% of the questions were answered correctly.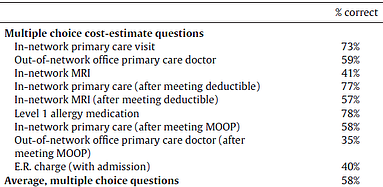 Source: Carnegie Mellon University Study
Putting Consumers Back in Control of Health Care
This study concludes three key things: (1) Many people lack basic understanding on how health insurance works, (2) health insurance is confusing, and (3) most people don't fully understand the basics of health insurance, but they believe that they do. Consumers are not in control of their heath care.
The metaphor I like to use is comparing health insurance to a restaurant. Why would a restaurant make its food taste good and sell it at an affordable price if most people who came in (1) didn't understand anything on the menu, (2) had a third party order for them, and (3) had the same third party pay for a large portion of the cost? If the consumers aren't aware of the changes that could be made, there's no incentive for the health care industry to change the product.
Efforts need to be made to simplify and educate the general population on health care. The fact that only 14% of respondents can correctly define the four fundamental terms of health insurance, suggests that the blame cannot be put on the consumers alone, nor should this task be put on consumers alone. It's time to get back in control and this means combined efforts of consumers, insurance companies, employers, agents, and the federal government.
To see our health insurance glossary see: 73 Health Insurance Terms You Should Know
Answers: Q3 (3), Q5 (1), Q87 (1), Q90(3)
How many did you get right? Leave a comment below.