A preview of the health plan rates for the federal Health Insurance Marketplaces is now available. Today, the federal authorities released sample premium rates for the 36 states who are using either the federally-run health insurance exchange model, or a partnership-based exchange model. While states have been individually coming out with their health insurance exchange rates, the report summarizes the health plan choices and premiums that will be available for the 36 states using the federal Health Insurance Marketplace.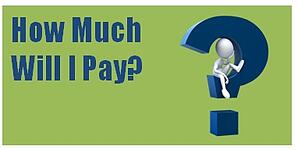 According to the Department of Health and Human Services (HHS), "premiums nationwide will … be around 16% lower than originally expected."
Final comprehensive rate listings will be available online (at www.healthcare.gov) on October 1, 2013.
Marketplace Rates Vary Significantly by State
According to the report, the average premium nationally for a Silver-level plan is $328 per month for an individual. A Silver-level plan is a mid-range plan that covers 70% of covered medical costs.
For families, the average premiums vary widely by state. For example, a family of four will have an average monthly premium of $600 in Arizona, $961 in Indiana, $1,069 in Mississippi, $859 in New Hampshire, $943 in New Jersey, and $656 in Utah.
Some of the key factors influencing the differences premium prices include:
Insurance company estimated costs
A region's labor costs
Amounts that hospitals and other regional facilities charge
Competition between insurers
These premium costs, however, are "sticker prices" and do not take into account the discounts consumers may receive with the premium tax subsidies. Administration officials say that with the premium tax subsidies, the same family of four with an income of $50,000 will pay $282 a month in premiums for a Silver-level plan. A 27-year-old individual with an annual income of $25,000 will pay $145 a month for a Silver-level plan.
Most Consumers Will Have Choice of 53 Health Plans
Gary Cohen, the director of the federal Center for Consumer Information and Insurance Oversight, says that consumers in the 36 states using the federal Health Insurance Marketplace will, on average, be able to choose from 53 health plans. In most states, plans are being offered by two or more insurance companies.
The highest insurance competition is seen in Wisconsin, with 13 carriers offering plans, while in New Hampshire and West Virginia, only one insurer will be offering plans through the Health Insurance Marketplace.
Most Americans Eligible for Subsidies
According to the Congressional Budget Office (CBO), 7 million Americans are projected to enroll in a health insurance plan through the individual and small business Health Insurance Marketplaces in the next coming year. Of these 7 million people, 6 million are expected to be eligible for premium tax subsidies because they do not have affordable employer-sponsored coverage and their incomes are within 100-400% of the Federal Poverty Level (FPL). That's equivalent to up to $46,000 a year for and individual, or up to $94,000 for a family of four.
According to HHS secretary Kathleen Sebelius, "six in 10 Americans who lack insurance will be able to find coverage that costs less than $100 a month."
"Consumers Should Compare More Than Cost"
Because the cost of premiums is the most popular point of focus in the media lately, it is becoming the main source of comparison between plans. But consumers should be aware that there are other important factors to consider when choosing a health plan, and in the end, the plan with the lowest premium may not be the plan with the lowest overall cost for them.
For example, deductibles, out-of-pocket maximums, co-pays, and coinsurance are some other factors that can significantly affect health care costs, and these amounts should be taken into account when choosing a plan. For these reasons, it's recommended that individuals work with a health insurance broker registered with the Marketplace to compare and select a plan (and see: FAQ: Which Individual Health Insurance Plan Should I Choose?).
Federal Health Insurance Marketplaces - Example Rate Charts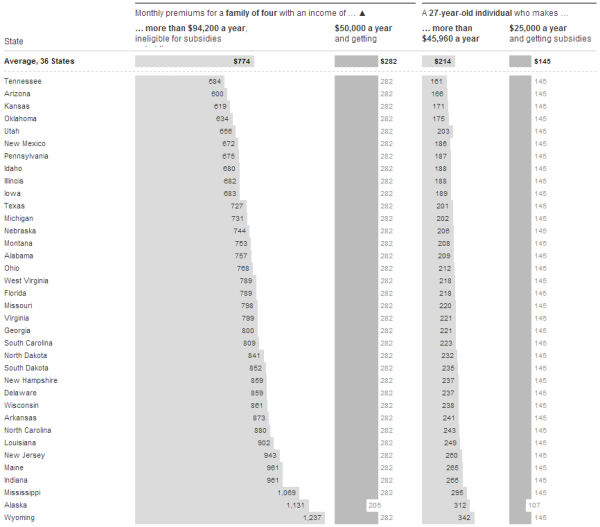 Here is the full report and example rate charts.
Source: US Department of HHS.
For a listing of health insurance exchange rates by state, see this article.
What do you think about the preview of Health Insurance Marketplace individual plan rates for these 36 states? What questions do you have? Leave a comment below.