One of the key goals of the Affordable Care Act (ACA), according to the administration, is to increase access to affordable health care and help millions of Americans gain new access to more affordable health coverage and care. How will we know if it's working? To provide a benchmark, the US Census recently released a snapshot of health insurance coverage and uninsured rates in the US in 2012.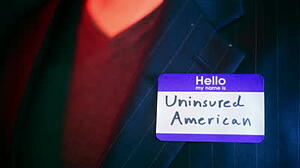 The US Census report "Income, Poverty, and Health Insurance Coverage in the United States: 2012" found that 48 million Americans were uninsured in 2012, down from 48.6 million in 2011.
Here is a summary of the data showing how Americans purchase insurance, who makes up the uninsured Americans, and trends in health insurance coverage.
How Americans Accessed Health Insurance in 2012
The percentage of Americans without health insurance decreased from 15.7% in 2011 to 15.4% in 2012 (not statistically significant).
The number of people with private health insurance increased slightly in 2012 to 198.8 million, up from 197.3 million in 2011. Those with employer-based coverage rose slightly from 170.1 million to 170.9 million.
The percentage and number of people covered by government health insurance increased from 32.2% (99.5 million) in 2011 to 32.6% (101.5 million) in 2012.

Uninsured Rates by Age
Since 1999, the age group with the highest rate of uninsured adults has been 19-25 year olds. However, in 2012 the rate of uninsured 19-25 year olds was 27.2%; the same rate as adults age 26 to 34.
The percentage of children (18 years and younger) in 2012 without health insurance decreased to 8.9%, down from 9.4% in 2011.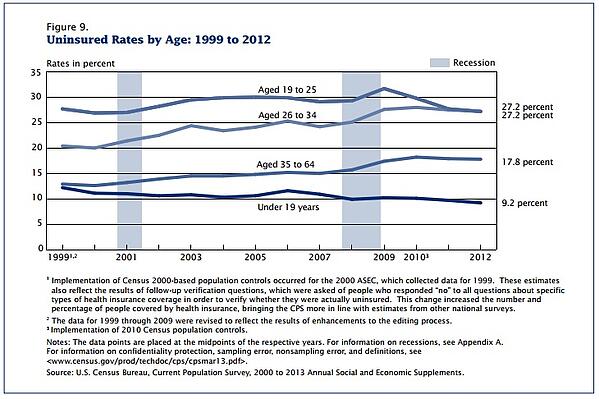 Uninsured Rates by Household Income
The uninsured rate was higher among people with lower incomes and was lower among people with higher incomes. As the table shows below, the uninsured rate among those making less than $25,000/year was 24.9%. The uninsured rate among those making $75,000/year or more was 7.9%.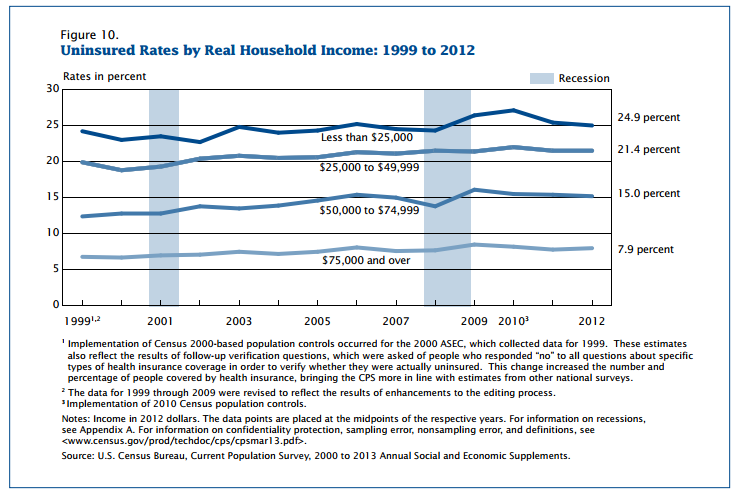 US Census Definition of Insured and Uninsured
The report defined "insured" as someone who was covered by any type of health insurance for part or all of the previous calendar year. A person was considered "uninsured" if, for the entire year, they were not covered by any type of health insurance.
Charts and data source: US Census Income, Poverty, and Health Insurance Coverage in the United States: 2012
Thoughts or questions on the most current US Census report on uninsured Americans? Leave a comment below.