"What type of health insurance should our small business provide? When should we start offering health insurance?" If you've asked yourself these questions and have had a hard time deciding, you're not alone.
In fact, 20% of small businesses are not sure what type of health benefits to offer employees over the next three years, according to a new survey by EMPLOYERS.
Health Insurance is Top Priority for Small Businesses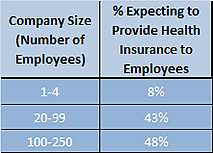 The percentage of small businesses planning on providing health insurance to their employees is directly related to the number of employees in the business - the percentage of small businesses offering health insurance drops significantly with under 20 employees... and especially under 5 employees. But a significant portion of companies with under 100 employees still say that they are considering providing health insurance.
Small businesses (with less than 50 employees) are not required to provide health insurance by 2015 through the Affordable Care Act (ACA), however many are still intending to provide some sort of health insurance or health benefit in the coming years. In other words, small businesses still value health insurance as an important recruitment and retention tool.
Other key findings from the EMPLOYERS Small Business Opinion Poll are:
41% of small businesses currently provide health insurance for their employees

20% plan to provide health insurance directly to employees within the next three years

20% are not sure what they intend to do within the next three years

14% expect to refer all or some employees to state-based health insurance exchanges within the next three years
In addition, one third of small businesses see health insurance as a strategic business necessity.
Uncertainty with Small Business Health Insurance Remains
Small businesses see offering health insurance as a high priority, but even so, there is uncertainty among small business owners about small business health insurance.
According to the poll:
20% of small businesses believe health care insurance is a drain on cash flows

14% of small businesses don't think much about it

4% say they provide health insurance but wish they didn't have to
Source: Employers Q3 Small Business Opinion Poll.
Are these small businesses health insurance trends on-target? Leave a comment below.