ObamaCare saved consumers $1.2 billion in health insurance premiums in 2012 via the rate review process. This is according to the U.S. Department of Health and Human Services (HHS) who recently released its Annual Rate Review Report. The report aims to show how the new rate review process saved consumers money on health insurance premiums in the last year.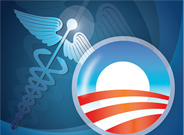 Overview of the Rate Justification Process and Analysis
The Rate Justification Process is a new Affordable Care Act (ACA or ObamaCare) rule that requires insurance companies to provide justification for rate increases and go through a formalized rate review before increasing premium rates 10% or more.
The new analysis from the Office of the Assistant Secretary for Planning and Evaluation (ASPE) of the rate review activities of 2012 shows that the rate review process saved consumers approximately $1.2 billion on their premiums, when compared to the original amount insurance companies requested via rate increases.
Savings in Individual and Small Group Market
The savings as a result of this review and justification process are said to have affected 6.8 million Americans. The individual market had an average rate increase drop of 12% (from 8.1% to 7.1%) after rate review, averaging out to savings of $311 million for individuals. The group market average rate increase decreased by 19% (from 5.8% to 4.7%) saving consumers an estimated $866 million.
In addition to the rate review process, the ACA requires insurers to spend at least 80% of their revenue on health care coverage (known as the 80/20 rule), and if they do not meet this requirement, they need to issue rebates for their shortfall. The issued medical loss ratio (MLR) rebates totaled to $500 million in 2012.
Fewer insurers submitted requests for rate increases of 10% or more in 2012, most likely a direct result of the ACA policy that requires these requests to be justified and reviewed.
Rate Review Grants
The ACA authorizes the Secretary to give grants to states who want to improve their rate review process. The law allows $250 million for rate review grants, and each state receiving a grant must submit data to the HHS documenting all rate increases requested by issuers in their state. In 2012, the Rate Review Grant Program granted $170 million to U.S. states, territories, and the District of Columbia for the rate review process.
Rate Justification Program
HHS has defined rate increases of 10% or more to be potentially unreasonable, and trigger greater scrutiny in the review process. In 2012, the Rate Justification Program modified or rejected 28% of all rate increase requests of 10% or more in both the individual and small group markets, as shown in the charts below, taken from the report.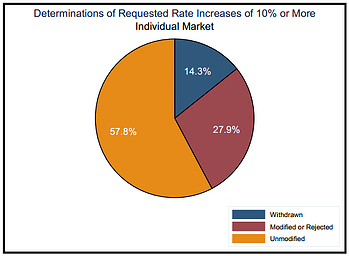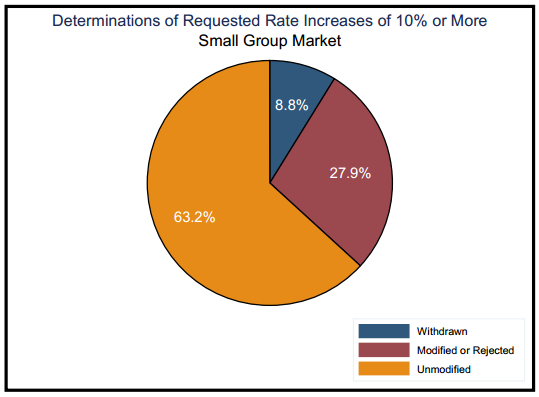 The Rate Review Process put into action by the ACA seeks to bring transparency and scrutiny to health insurance rate increases, and create a clear comparison for Americans. All rate change information is now available to the public, and issuers must provide justification of rate increases of 10% or more.
To read the full report see: Rate Review Annual Report (http://aspe.hhs.gov/health/reports/2013/acaannualreport/ratereview_rpt.pdf)