Under the Affordable Care Act (ACA), all states will be opening a state health insurance exchange "marketplace", which will be available for online enrollment starting October 1, 2013.
The marketplaces will be a new option for individuals and small businesses to purchase health insurance. What is the process like to sign up for the health insurance through the marketplaces?
This article shows step-by-step what employees will need to do on or after October 1, to enroll in individual health insurance through the health insurance marketplaces.
Step 1: Set Up a Marketplace Account

The first thing employees need to do is set up an account with your state's health insurance marketplace website. This will either be a website run by your state's government, or a federal marketplace website. To look up your state's marketplaces website see this link: State by State Guide to Health Insurance Marketplaces. If your state is going through the federal marketplace, the website will be www.healthcare.gov.
Once on your state's health insurance marketplace website, there will most likely be a button that says, "sign up", "register", "create an account", etc. Click on this and follow the prompts. You will then likely be required to provide basic information, and choose a user name, password, and security questions for added protection.
Tip: Step 1 can be completed prior to October 1.
Step 2: Fill Out an Eligibility Application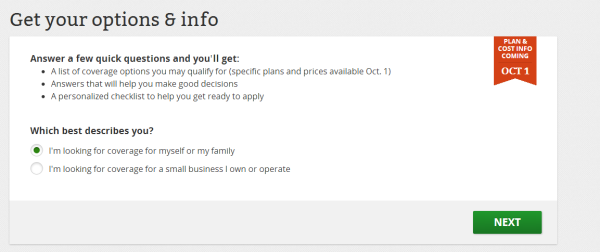 Next, fill out an eligibility application. This application will ask questions about you and your family, such as income, household size, current health coverage information, and more.
From the information you provide in this section, the marketplace website will calculate if you are eligible for certain discounts on your health insurance premium, such as Medicaid, Children's Health Insurance Program (CHIP), or the new premium tax subsidies and cost-sharing subsidies.
Tip: Work with a health insurance agent or broker from this step forward to help you navigate the application and plan choices.
Step 3: Compare Plan Options
Once you've filled out the application, the marketplace website will provide you with all plans you are eligible for side-by-side comparison. At this point in the process you will be able to see available health plans and compare:
The benefits offered through each plan
The monthly cost for each plan, with any discounts applied
Out-of-pocket costs
Deductibles
Co-payments
Coinsurance
Premiums
Tip: The monthly premium that will be shown on the webpage will have the discount factored in if you qualify for premium tax subsidies. This amount will reflect the actual amount you'll pay every month.
Step 4: Enroll in a Plan

Once you select a plan, you will be able to enroll online. Once you've enrolled you will provide payment information -- how you plan to pay your monthly premiums to the insurance company.
If you or a family member qualify for Medicaid or CHIP, a representative will contact you to enroll.
Tip: Even though open enrollment for the marketplaces starts October 1, 2013, the earliest date that coverage will start is January 1, 2014.
What You'll Need When You Apply
Here's the basic information you'll need when filling out the application for individual health insurance in 2014. Be prepared with the following information:
Date of birth
Social security number & citizenship status
Tax filing status, and number of dependents*
Current job and income information including current employer, wages, hours worked (ie a current paystub)*
Other income information such as pensions, rental income, alimony received, unemployment income, etc.*
Current insurance information such as how you are insured (employer, Medicaid, individual health insurance, etc.)*
Payment information, such as a credit card or bank draft (ACH) information
*These questions will only be asked if you are applying for federal assistance (premium tax subsidies, cost-sharing, Medicaid, CHIP, etc.).
Additional Resources
Getting an insurance plan in 2014 is simpler than ever. That being said, many employees will be purchasing an individual or family plan for the first time (without the involvement of their employer), so it may be stressful or confusing for some employees.
For this reason, we recommend to all employers we work with that they designate a licensed health insurance agent or broker to help employees with selecting and applying for health insurance -- on or off the marketplaces.
Also, in every state there are trained and certified people ready to help you understand and get enrolled. Depending on the state, they may be referred to by different names such as:
Navigators
Application assistors, or in-person assistors
Certified application counselors
Government agencies, such as State Medicaid and CHIP offices
Also, these resources may be helpful: