For those following the North Carolina Health Insurance Exchange, one of the two carriers expected to offer health plans through the exchange, Blue Cross Blue Shield of North Carolina (BCBSNC), has released individual health plan rates.
BCBSNC will be offering individual health insurance policies to all 100 counties through North Carolina's Health Insurance Exchange beginning October 1, 2013. What about other carriers? Last Friday, FirstCarolinaCare Insurance Co announced they would not offer plans through the NC Health Insurance Exchange. CoventryHealth will reportedly offer health plans on the Individual Health Insurance Exchange, though not in all counties.
The BCBS individual health plan rates for North Carolina give residents a preview of what individual health insurance premiums under the Affordable Care Act (ACA) are going to cost in NC.
North Carolina Health Insurance Exchange – BCBSNC Health Plan Rates
According to BCBSNC, they will offer 26 plans on North Carolina's Individual Health Insurance Exchange, which will be offered by metallic level of coverage. (To read more on Bronze, Silver, Gold, and Platinum plans see: FAQ: What are the Metallic Tiers of Coverage?) The average rates for individual plans are shown in the table below. These rates are state-wide averages for non-smokers.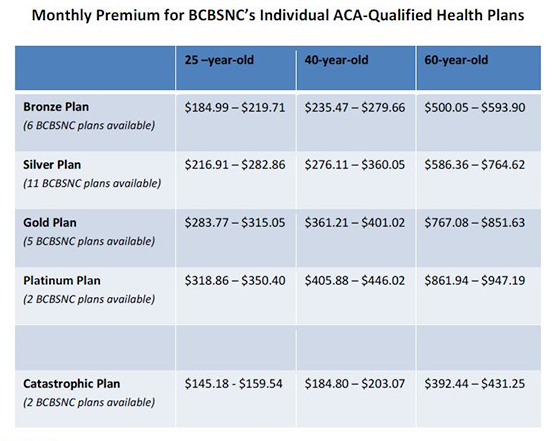 Source: BCBSNC
North Carolina Health Insurance Exchange – About the Health Plans
It's important to note that costs listed are a state-wide average of individual plan premiums, but not all plans will be available in every county. In addition, these rates do not reflect the discounts due to federal tax subsidies that many residents will be eligible for. To read more on the premium tax subsidies, see: Individual Health Insurance Premium Subsidies in State Exchanges.
The plans offered through the ACA generally offer broader benefits, and premiums are now only dependent on age, region, and tobacco use. According to the vice president and chief actuary of BCBSNC, Patrick Getzen, "The ACA will make coverage available to many who have never had it and will enhance benefits for most consumers…After the impact of subsidies, we expect about two-thirds of our individual customers will see the amount they pay for coverage increase similar to previous years – or they may pay less."
What do you think about the NC Health Insurance Exchange rates for individual health plans? Leave a comment below.