The Minnesota Health Insurance Exchange, also known as MNsure, recently completed its rate reviewing process for the insurance policies it will be selling through its online exchange beginning October 1. In total, 141 plans were approved: 78 individual plans and 63 small group plans, and every plan saw a reduction in rates varying from 4% to 37% lower than the original filings. Minnesota is one of the 31 states that can deny requested rates based upon whether the rates are justified, which helped in lowering the rates.
Minnesota Health Insurance Exchange – Carriers
A total of 5 insurance companies will be offering health insurance plans through MNsure. All five will be offering plans through the individual market. The carriers include:
Blue Cross and Blue Shield of Minnesota
Group Health, Inc.
Medica Health Pan of Wisconsin
PreferredOne Ins. Co.
UCare
Of these five insurers, the three that will be offering plans through the small group market are Blue Cross and Blue Shield of Minnesota, Medica Health Plan of Wisconsin, and PreferredOne.
Minnesota Health Insurance Exchange – Rates
Minnesota Commerce Department Commissioner Mike Rothman said that the department "believes that… these rates undeniably are extremely competitive." He continued to say that Minnesota has the lowest average rates in the country compared to the other states that have released rates so far.
Some residents will be able to buy health insurance for as low as $91 a month. The table below shows the lowest monthly rates for certain ages in the Saint Paul/Minneapolis Metro Area.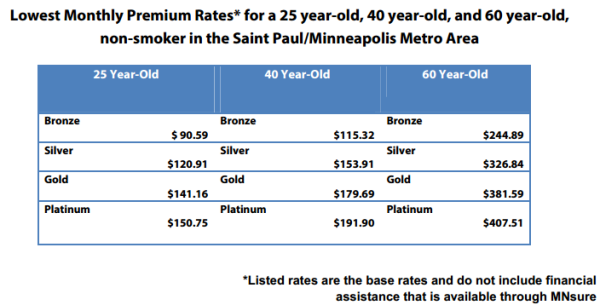 Rates will vary by region, age, and tobacco use. For health insurance plan purposes, Minnesota is divided into 9 different regions, as described in the map below. And the table underneath shows the average individual market premium rates by area, age, and policy.