How does employee financial stress impact small businesses, and businesses of all sizes? How is employee financial stress related to their overall health and productivity? Purchasing Power recently released a nation-wide survey asking employees about the financial stress they feel on a day-to-day basis and how it affects them at work. The survey found that stress over money takes both a mental and physical toll on workers, increasing health related costs and decreasing productivity by a significant amount. Although many small businesses understand that offering employee health benefits promotes business productivity, they don't always connect financial stress with overall health and wellness (and productivity).
Employers who understand the financial stress of its employees can help improve the financial wellness of their workers and improve the company's bottom line at the same time. Workers who have peace of mind over personal finance are happier, and more productive in the workplace.
This artilce highlights key findings from the survey and includes suggested strategies that small businesses can be used to promote financial wellness in a workplace.
What is Financial Wellness?
Financial Wellness is having an understanding of personal financial situations and managing it in a manner in which there is preparation for financial changes. This means:
Managing money
Having no debt, or having a plan to reduce your debt
Living within reasonable means
Having an emergency fund
Saving for retirement
Not being worried about money all of the time
Current Financial State of Full Time Employees
According to the study, although 44% of current full time employees say that they are better off financially in 2013 than they were in 2012, that same percentage amount says that they wouldn't be able to pay $2,000 if an emergency occurred. Almost half had to put off a major purchase in the last year, and 41% say that they have a fair amount of daily financial stress, and half of those say that they have quite a bit or a great deal of stress.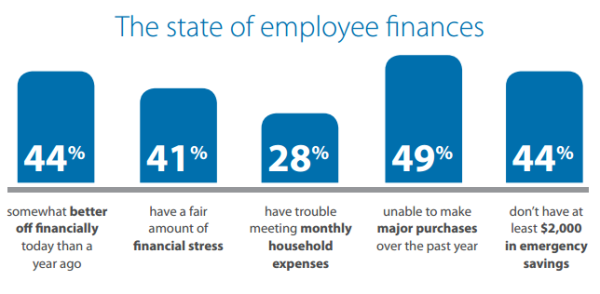 Financial Stress and the Workplace
The survey also conveys that full time workers bring their financial stress to work. 44% of American full time workers say they worry about financial issues during work hours. Furthermore, the survey shows concern that this financial stress is a distraction at work and can have major impact on focus and productivity, as 46% say that worrying about money takes up 2-3 hours per week of their work time.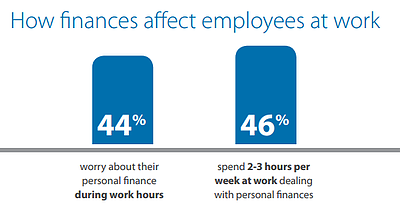 The survey lists several negative implications that can result from this: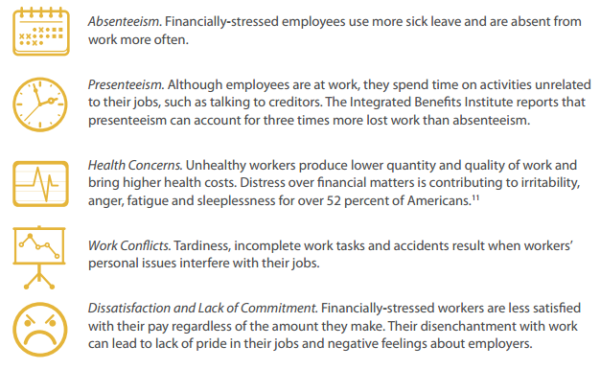 Improving Financial Wellness in the Workplace
The survey suggests that employers provide financial education and financial wellness programs at work, such as on-site money management and financial planning seminars. These will help employees change their money behaviors and increase their financial literacy.
One example would be an employee purchase program offered through the workplace as a voluntary benefit. An employee purchase program promotes disciplined purchasing through manageable payments and pre-set spending limits and controls to prevent over-spending. By helping employees achieve financial wellness, businesses can increase employee loyalty, build and maintain productivity, and improve job satisfaction.
Another example would be an employee medical reimbursement program (such as a Health Reimbursement Arrangement), where employees can be reimbursed tax free for their health insurance and medical expenses, up to the amount allocated by the small businesss. This helps employees ease the financial strain of a growing expenses -- health insurance and medical expenses.
To read the full report see: Financial Wellness: Addressing the "9 to 5" Impact of 24/7 Financial Stress