Who will Medicaid expansion impact? A recent study from the University of Michigan predicts that Medicaid expansion will actually cover more young and healthy people, rather than more elderly and sick, as many states feared when deciding whether or not to participate in the expansion.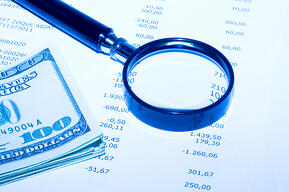 Basics on Medicaid Expansion
One of the original provisions of the 2010 Affordable Care Act (ACA) was the expansion of Medicaid to cover all U.S. citizens. Under this provision, Medicaid would expand nationally to all citizens making up to 138% of the Federal Poverty Line (FPL). Prior to the ACA, each state had its own Medicaid qualifications. However, this provision of the ACA was deemed as unconstitutional in 2012. Now, each state has the choice of whether to expand Medicaid or not.
Currently, 24 states plan to expand Medicaid. Sixteen states have said that they are definitely not expanding Medicaid. Four states seem to be leaning towards Medicaid expansion and seven seem to be leaning away (there is no specific deadline for states to decide).
Demographics of the Newly Eligible Medicaid Population
According to the study, states have decided not to expand Medicaid, mostly because of the added estimated cost to do so, partially related to the cost associated with expanding coverage to a large proportion of sick and old people. But, the study actually shows that the average age of coverage would decrease with the expansion of Medicaid. In addition, the coverage would expand to more healthy people than sick. As a result, the costs of Medicaid expansion may be less than previously predicted.
The Congressional Budget Office estimates that 13 million people will become newly eligible for Medicaid. The Kaiser Family Foundation projects an estimated cost of $8 billion to cover these new people. However, they are using the demographics of the current Medicaid-covered population, and as this study from the University of Michigan shows, those demographics are going to change. The infographic below shows some of the changing demographics from the old Medicaid population to the new Medicaid population (if all states were to expand).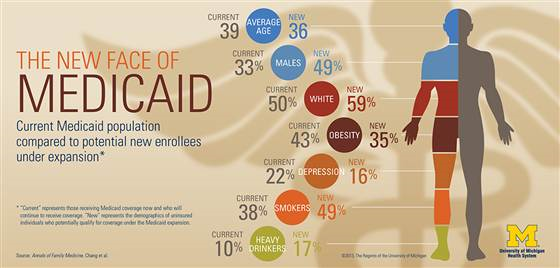 Source: University of Michigan
Furthermore, the study asked participants that would be eligible under expansion detailed questions about themselves, their health, and their coverage; and compared these answers to those covered by Medicaid now. What they found was that overall, potentially eligible adults are expected to have better health status than current beneficiaries. According to the study, 75% of potentially eligible people rated themselves as in "excellent" or "very good" health, and only 65% of current beneficiaries rated themselves the same.
See the full study: Potential Adult Medicaid Beneficiaries Under the Patient Protection and Affordable Care Act Compared With Current Adult Medicaid Beneficiaries
Thoughts? Leave a comment on the impact of Medicaid expansion below.