The Rhode Island Health Insurance Exchange, known as HealthSource RI, recently released finalized health insurance premium rates that will be offered for individuals and small businesses through the online marketplace, starting October 1, 2013.
Rhode Island Health Insurance Exchange – Carriers
Rhode Island will have three carriers offering health insurance plans through their exchange. These carriers include:
Blue Cross & Blue Shield of Rhode Island

United HealthCare

Neighborhood Health Plan of Rhode Island
These 3 carriers will offer 28 plans through the exchange. Blue Cross & Blue Shield as well as Neighborhood Health Plan will offer twelve policies through the individual market. And all three providers will offer sixteen plans through the Small Business Health Insurance Options Program (SHOP).
Rhode Island Health Insurance Exchange – Plan Rates
The plan premiums for individual health insurance will depend on the individual's age and what level plan they chose. There will be four levels of plans for individuals to choose from: Gold, Silver, Bronze, or Catastrophic. Below we have outlined the average monthly rates for each plan level.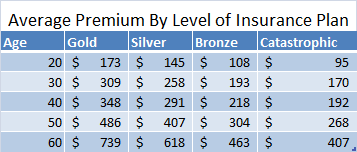 The monthly plan premiums for small groups will also depend on the type of plan selected and age of employee/s. Here are a few small group premium examples through the SHOP exchange:
20-year old employee covered under a Gold plan $193/month (UHC)

40-year old employee covered under a Silver plan $313/month (BCBS)

60-year old employee covered under a Silver plan $680/month (VantageBlue)
Rhode Island Health Insurance Exchange – What to Consider When Choosing a Plan
According to the Director of HealthSource RI Christine Ferguson, "When making these important choices about health coverage, consumers and small businesses should carefully weigh monthly premiums, the type of network that each plan is offering, deductibles, out-of-pocket expenses, and out-of-pocket cost maximums."
According to HealthSource RI, the will help assist with multiple resources online to help consumers compare their choices, as wells as people on call by phone or in-person to help Rhode Island residents select a plan that best fits their need.
For example, HealthSource RI has provided a document that lists each individual plan side-by-side, with premiums (for a 21- and 45-year-old), network type, services, deductibles, coinsurance and copayments, and maximum out-of-pocket amounts listed beneath each plan.
Rhode Island Health Insurance Exchange – Tax Subsidy Eligibility
Of Rhode Island's 1 million residents, Families USA estimates that almost 83,000 will be eligible for the federal health insurance subsidies. Most of those eligible will be part of working families and under 35 years old.