Recently, the New Mexico Health Insurance Exchange released proposed rates for individual health insurance plans offered through their exchange. The New Mexico Health Insurance Exchange (NMHIX) will be implementing a hybrid marketplace, with the state running the Small Business Health Options Program (SHOP) Exchange and the federal government running the individual exchange.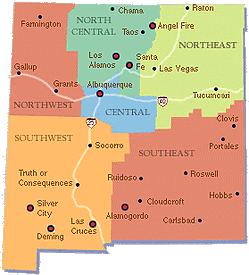 New Mexico Health Insurance Exchange - Carriers
Five insurance companies applied to sell individual and family plans through the New Mexico Health Insurance Exchange. These carriers include:
Blue Cross and Blue Shield of New Mexico

Lovelace Health Plan CK ALL 5

Molina Healthcare of New Mexico

New Mexico Health Connections

Presbyterian Health Plan
New Mexico Health Insurance Exchange - Proposed Premium Rates
Premium rates for plans under these five insurance companies are currently under review by NMHIX, but the table below shows average proposed premium rates for a 30-year-old adult, non-smoker under a silver-rated health insurance plan. The rates will vary by region and this table looks at five regions.

Rates for additional age groups and metallic levels can be found here:
New Mexico Health Insurance Premium Summary 2014
.
New Mexico Health Insurance Exchange - Medicaid Expansion
Currently, 450,000 of New Mexico's nearly 2.1 million residents are not insured under a health insurance policy. With the implementation of Medicaid expansion, NMHIX expects to extend coverage to 90,000 New Mexicans.
New Mexico Health Insurance Exchange - Outreach Program
On July 9, 2013, the New Mexico Services Department received a Level 1 grant of $18.6 million, which will be used to support comprehensive outreach, education, marketing activities, and the state's "Healthcare Guide" for Navigators and In-Person Assisters.
The state will partner with nonprofit organizations, counties, schools and universities, faith communities, providers, and business organizations to provide extensive outreach at local events. The state will also provide targeted outreach and education to tribal sovereign Nations at health fairs and events, and create an educational website and hotlinks for Native Americans.
On June 28, the exchange released a request for information (RFI) for their Navigators and Assisters, referred to as "Healthcare Guides". New Mexico plans to contract with two or more umbrella entities to develop Navigator/Assister programs and implement comprehensive outreach programs, education, and enrollment strategies. These programs will hire individual Healthcare Guides, who will complete a training and certification process, in addition to a criminal background check. In addition to delivering outreach, education, and in-person assistance, the Healthcare Guides will connect New Mexico residents to the Customer Service Center, the New Mexico Health Insurance Exchange website, or certified and licensed brokers if additional support is needed
As much as $7.7 million of the Level 1 grant will go to advertising and marketing assistance. On August 15, New Mexico's exchange marketing board chose the public relations firm BVK, headquartered in Wisconsin, to handle marketing and education about its online marketplace for health insurance. (Source: NM insurance exchange selects marketing contractor.)
What do you think about the proposed health insurance rates for the New Mexico Health Insurance Exchange? Leave a comment below.