The Maryland Health Insurance Exchange, called the Maryland Health Connection, recently released approved insurance premium rates that they will offer via their state marketplace starting October 1, 2013 as part of the Affordable Care Act (ACA). They claim that their state's premium rates are going to be among the lowest in the country.
Maryland Health Insurance Exchange – Approved Rate Examples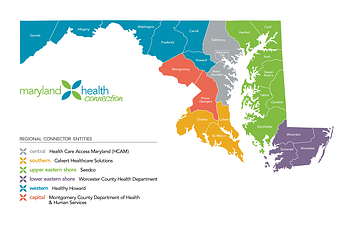 The Maryland Insurance Administration provided example 2014 monthly rates of nine proposed carriers for residents living in the Baltimore area.
For a 25 year old non-smoker enrolled in a bronze level plan, monthly premium rates will start at $124 per month.

For a 50 year old non-smoker on a silver level plan, the premiums will start at $267.
A report by the Maryland Health Connection compares its proposed premium rates to rates of 12 other states with available rate data. According to the report, Maryland is among the lowest of the 12 states. For example, a 50 year old resident enrolled in a silver plan in New York has an approved rate of $319 per month, while the same resident in Maryland has an approved rate of $260 -$269 per month depending on the region – 18% less in premium cost.
When compared to all of the available bronze plan proposals, Maryland had the lowest rates. The smallest premium on a bronze plan for a 25 year old in Maryland is $114, compared to $134 in Virginia, $146 in Colorado, $163 in Ohio, $167 in Washington State, and $174 in California.
Maryland Health Insurance Exchange – Premium Tax Subsidies
In addition, the Hilltop Institute estimates that three out of four residents purchasing health insurance through the marketplace will be eligible to receive a premium tax subsidy on their plan, allowing them to pay even less. There will also be opportunities for low-income Marylanders to reduce deductibles, cost sharing, and out-of-pocket caps.
Maryland Health Insurance Exchange – Attributing Factors to Low Rates
Maryland attributes two factors in their lower premium rates. The first is the insurance commissioner's aggressive negotiation of rates. According to their report, the insurance commissioner was able to reduce most premium rates by more than 50%. State officials described the approval process as being very rigorous, in which the insurance companies were questioned and challenged on assumed risks, proposed administrative spending, and calculations.
The second is the way in which Maryland is planning to handle risky consumers next year. The state is keeping their high-risk pool open for people with pre-existing conditions who don't want to change coverage. This is being implemented with the purpose of keeping a portion of the sick population out of the health insurance marketplace, and apparently, Maryland's insurance department asked its insurers to take this into account when proposing their premium rates.
For a list of carriers see: Maryland Health Insurance Exchange Update - Proposed Carriers & Rates.
Maryland Health Insurance Exchange – Key Features
Along with lower premiums Maryland provides the following key features of their plans:
Comprehensive care, including coverage of essential health benefits. Essential health benefits include outpatient and inpatient care, mental health and substance abuse treatment, laboratory testing and radiology, and prescription drug coverage;

Recommended preventive services, available free of charge;

A cap on out-of-pocket expenses;

No lifetime or yearly dollar limits on coverage;

For the first time in the individual market, no Marylander can be rejected for coverage on the basis of his or her health status.
Read more about the Maryland Health Insurance Exchange rates here.