Today, the Centers for Medicare and Medicaid Services (CMS) released agent and broker training details for the federally-run health insurance marketplaces. Agents and brokers can now review marketplace training and sign marketplace agreements online. This is the first step for agents and brokers wanting to sell individual and small group health insurance policies through the federally-run marketplaces.
Role of Agents and Brokers in Marketplace - Summary
We previously wrote about the role of agents and brokers in the federally-run marketplaces (see overview of agent role here). To summarize:
If allowed by the state, licensed agents and brokers who register with the Marketplace can help qualified individuals enroll in coverage. Agents and brokers are required to complete training and adhere to privacy, security, and other state and federal requirements.

The CBO estimates that 7 million uninsured individuals may obtain coverage through the marketplaces in 2014, rising to an estimated 25 million by 2017.

Agents and brokers will play a role in both the individual health insurance marketplaces, and small business SHOP marketplaces.

Agents and brokers will continue to receive commission payments from carriers as they do today, at rates established by carriers. The federally-run marketplace will not pay agents, and will not be involved in setting commission/fee rates.

Agents and brokers can help clients apply for coverage and select a health plan. For more on this process and pathways, see Role of Agents in Health Insurance Marketplaces.

In states that require carrier appointment, these laws will continue according to state laws.
Marketplace Registration Process for Brokers
The agent and broker training curriculum is now available on CMS's new training website. There is a two-part process for agents and brokers:
Part 1 (opens August 2, 2013): Agents can register online, sign up for and complete training, pass exams, and sign agreement forms.

Part 2 (opening in the next few weeks): Agents will create a user account and complete identity verification.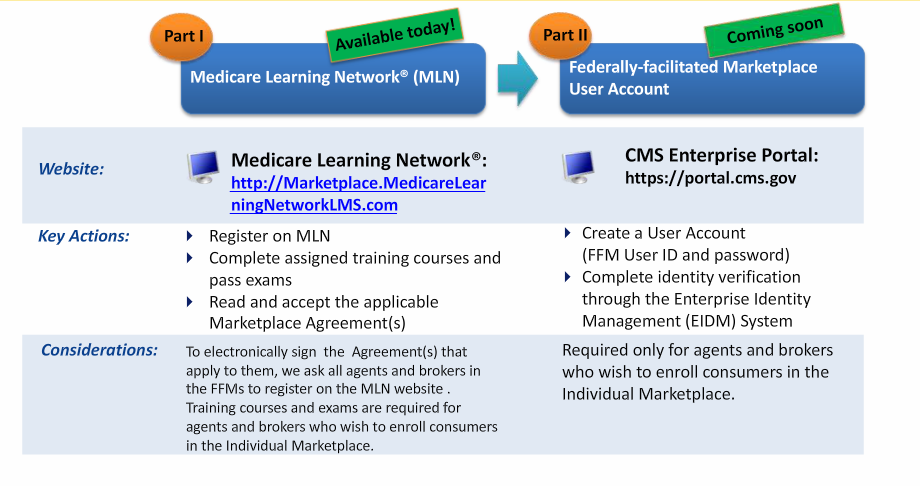 Marketplace Training Curriculum for Brokers
According to CMS, there will be three training paths based on the desired role with the marketplace: individual marketplace role, SHOP marketplace role, and both individual and SHOP marketplace role. Different training courses and exams will be required for each path.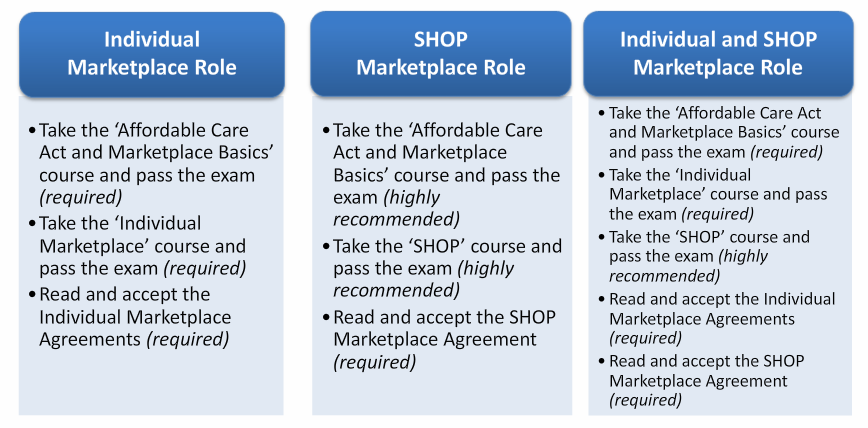 Source: CMS.
Resources for Agents and Brokers
CMS will continue to provide informational webinars in August on the registration and training process. CMS is coordinating with insurance industry groups to distribute information. And, CMS has provided the following additional resources for agents and brokers: