Small business human resources professionals are responsible for wearing many hats, including employee health benefits administration, hiring and retention, payroll, and employee satisfaction. Within these roles, HR is required to balance the company's expectations (and budget) with employee satisfaction. Keeping everyone happy can feel like walking a tight-rope.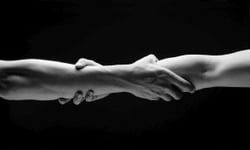 This is especially true if your small business (like so many others) is transitioning from a traditional group health plan benefit to a defined contribution plan benefit.
Here are six (6) tips for how small business HR professionals can gain employee trust and keep morale positive, while keeping appropriate boundaries. (Tip: These are specific to employee health benefits administration, but can be applied to all HR job functions as well.)
Be Straightforward About HR's Role with Employee Health Benefits. Employee health benefits decisions are often made at the leadership level. Once the decision has been made, it's up to HR to administer the program, educate employees, and evaluate the ongoing success of the health benefits program. HR becomes the face of employee health benefits, but you are not always the final decision maker. Because of this, welcome any questions and feedback from employees warmly, listen to the needs of employees, and communicate feedback to leadership.... but be upfront with employees about the process and don't over-promise what you can impact. See this article for more HR tips on transitioning to a defined contribution health plan.

Sincerity Goes a Long Way. Most HR professionals deeply care about their employees, and want to help. At the same time, HR holds information that cannot be shared with every employee. To balance this, stay sincere with employees when you can't share information - employees can sense when you are insincere or beating around the bush. To build trust, say "I'm sorry, but I can't go into detail about that with you... Tell me more about your concerns."

Keep an Open Door. It's natural for employees to look to you for questions, support, expertise, and problem solving. Embrace this, and keep an open door policy for employees. Accept feedback openly (positive or negative) to reinforce that you take employees' concerns seriously and understand their point of view. This builds trust with employees, but also helps you keep an accurate pulse on how employees value their health benefits.

Explain the Details. When employees have questions on the "why" or "how," take the time to answer employees' questions in detail. With employee health benefits, they may have questions on what services or expenses are covered, or how to access their health benefit. Being detailed will help employees understand their employee health benefits better, and they will value the health benefit even more. Providing a detailed answer will also make employees more self-sufficient; helping your efficiency in the long term.

Show You Care, Confidentially. In HR, you handle questions about employee health benefits, HR policies, and procedures. You also help employees with personal, sensitive concerns. Showing sensitivity to what employees are going through will make the employee feel safe, and will make employees more comfortable about coming to you with their concerns. At the same time, be upfront with the employee about confidentiality and draw boundaries as appropriate.

Consistency is King. Be consistent with both how you communicate and the information you provide. This will create positive morale among employees and leadership, and help you gain employee trust.
What are your HR tips for gaining employee trust and positive moral with employee health benefits? Let us know in the comments below.