The Affordable Care Act (ACA), aka ObamaCare, was signed into law on March 23, 2010. Since then, states have been planning for the key provisions that impact their constituents, businesses, and budgets.
Recently, the Washington Post provided a snapshot of each state's stance on the following three major ObamaCare issues provisions:
ObamaCare Law

Health Insurance Marketplaces

Medicaid Expansion
Did your State Challenge ObamaCare?
After being signed into law in 2010, the Affordable Care Act faced numerous challenges, mostly in contesting the constitutionality of the individual mandate, and/or Medicaid expansion. The individual mandate remains law and goes into effect 2014. In 2012, the Supreme Court ruled Medicaid expansion constitutional, but changed it to an optional provision for states to implement.
Twenty-seven (27) states challenged ObamaCare, and 24 states did not. Tweet this stat!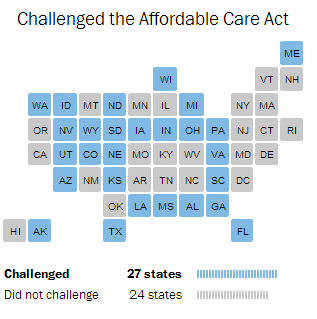 How Will Your State Set Up It's Health Insurance Marketplace?
As part of ObamaCare, all states are required to set up an online health insurance marketplace ("exchange") where residents and small businesses can shop for health insurance coverage and receive access to the key tax credits (e.g. the small business healthcare tax credits) and tax subsidies (e.g. individual health insurance tax subsidies).
ObamaCare provided states with three options for setting up the required state health insurance marketplace for 2014: Build a state-based marketplace, enter into a state-federal partnership marketplace, or default to the federally-facilitated marketplace.
According to the Washington Post, 27 states will default to a federally-run marketplace, 7 are planning for a state-federal partnership, and 17 are planning for a state-based marketplace. Tweet this stat!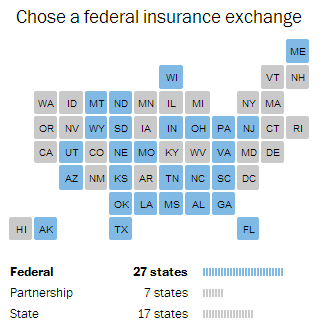 For details on your state marketplace see: State by State Guide to Health Insurance Marketplaces.
Does Your State Support Medicaid Expansion?
ObamaCare called for a nationwide expansion of Medicaid eligibility, set to begin in 2014. Under ObamaCare, nearly all U.S. citizens under 65 with family incomes up to 138% of the federal poverty level (FPL) ($15,415 for an individual or $26,344 for a family of three in 2012) would qualify for Medicaid. However as mentioned previously, Medicaid expansion was one of the major provisions at stake in the ObamaCare cases decided by the Supreme Court in June 2012. The Supreme Court upheld ACA Medicaid expansion, but limited the federal government's ability to penalize states that don't comply.
According to the Washington Post, 21 states will not expand, 6 states are still debating, and 24 states plan to expand. Tweet this stat!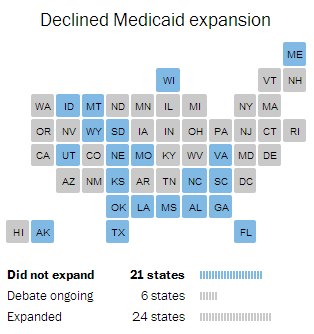 Where does your state fall?