Small business health insurance enrollment continues to decline. These are the findings from a recent study by Mark Farrah Associates' (MFA's) and Healthcare Business Strategy. According to the study, enrollment in small group fully-insured comprehensive health insurance policies declined 3.2% from 2011 to 2012, while enrollment in large group declined 3.9% between 2011 and 2012.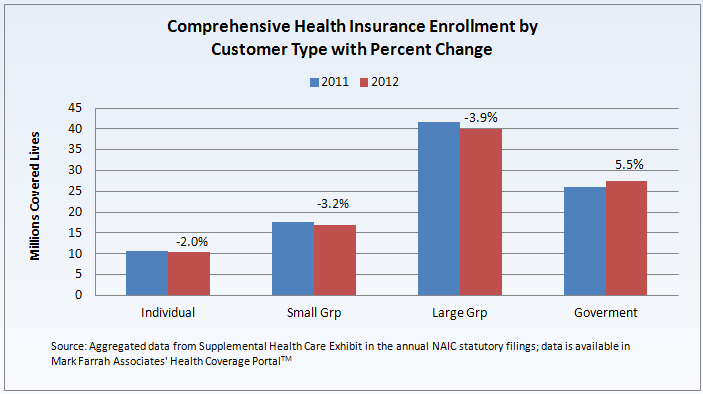 Key Findings from the Study:
While small group enrollment declined 3.2%, the total number of small employer insured groups as reported by health plans declined 9.3%, from 1.70 million small groups in 2011 to 1.55 million small groups in 2012. This is down significantly from the 2.03 million in 2010.

For small employers the average number of enrollees per group increased from 10.3 in 2011 to 11.0 in 2012.

Small business owners paid on average $348.84 per member per month in 2012. Large business owners paid on average $347.29 in premiums per month in 2012.

Premium rates reflect an increase of 2.29% for small groups and 1.45% for large groups between 2011 and 2012.

The leading competitors in the small group market are UnitedHealth, WellPoint, Health Care Service Corporation (HCSC), and Aetna. Together these four plans insure 40% of the total small group market and collectively they earned $28.6 billion of the $69.9 billion in total small group adjusted premiums reported for 2012.
To read the full report and for more details on methodology, click here.