With major provisions of the Affordable Care Act (ACA) right around the corner, including the opening of the state Health Insurance Marketplaces on October 1, 2013, how knowledgeable are Americans about the ACA (health care reform)? The Kaiser Health Tracking Polls provide monthly insights on the public's awareness of the ACA. The latest tracking poll (April 2013) finds that the majority of Americans remain confused or unaware about the ACA law. And, when Americans do hear about the ACA from personal networks and the media, it is usually a mix of good and bad. Here are the key findings from Kaiser's most recent poll.
42% of Americans Unaware The ACA Is Law
According to the poll, four in ten Americans (42%) are unaware that the ACA is still the law, including 12% who believe the law has been repealed by Congress, 7% who believe it has been overturned by the Supreme Court, and 23% who are unsure if the ACA remains law.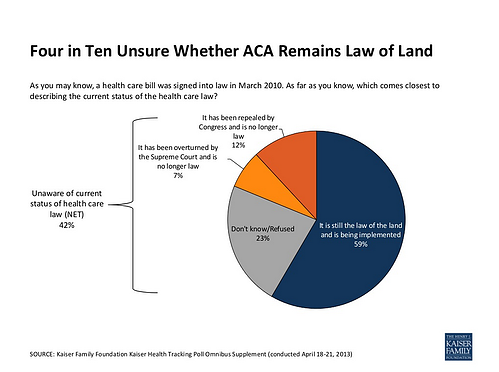 Source: Click here to read full KFF study.
Majority of Uninsured, Low Income Unsure How The ACA Will Impact Their Family
According to the poll, about half of Americans (49%) say they do not have enough information about the ACA to understand how it will impact their own family. When looking at just uninsured and low income Americans (who the ACA is intended to serve), that share rises to 58% of uninsured and 56% low-income households saying they are unsure about the personal impact of the ACA.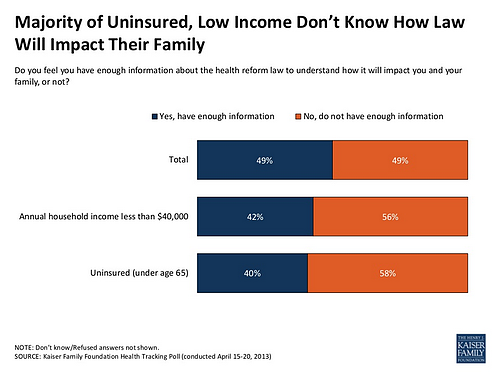 Source: Click here to read full KFF study.
Americans Get ACA Information from Personal Networks, News Media
So, where do Americans who have heard about the ACA receive their information? According to the poll, Americans most commonly received current information about the ACA from friends and family, and news media.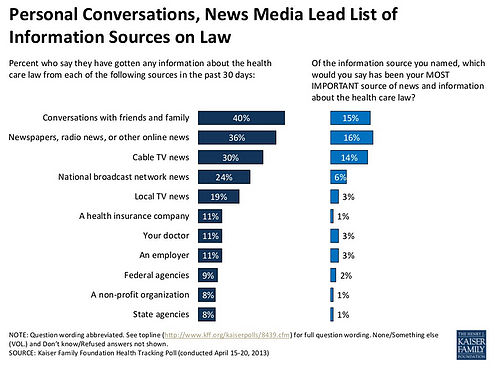 Related to this, what kind of information are Americans getting from these sources? According to the poll, respondents said the information they received about the ACA from the media and friends/family was a mix of good and bad (with "mostly bad things" a stronger response than "mostly good things"). This poll, however, does not reflect whether the information received about the ACA from friends/family and the media is accurate.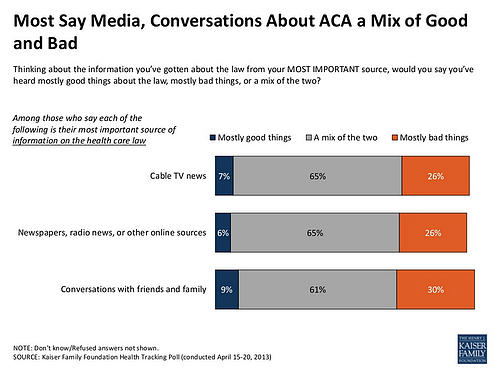 Source: Click here to read full KFF study.
Is this study on health care reform an accurate reflection of what you're seeing with clients and in your community? Let us know in the comments below.